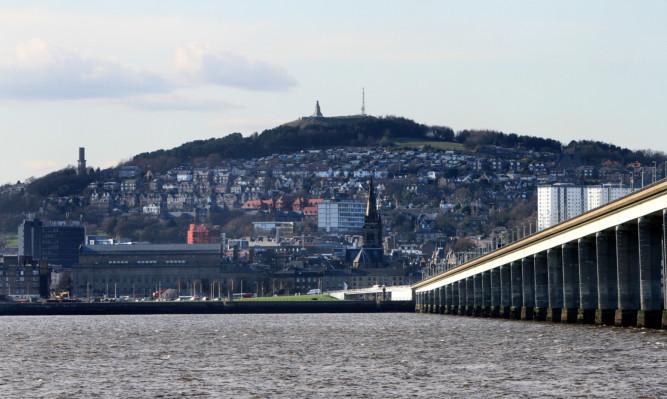 Dundee is the least happy place in Scotland, according to official government statistics.
A new happiness index produced by the Office for National Statistics also shows that, across the United Kingdom, only people living in Bolsover in Derbyshire and Cannock Chase near Wolverhampton are less happy with their lot.
The findings were challenged by Dundee Lord Provost Bob Duncan, who said the city is becoming increasingly "buoyant".
The study asked people to rate their happiness level on a scale of zero to 10 and then compiled averages for each area in the country. Those living in Fermanagh and Omagh were happiest overall, with an average rating of 8.3.
In Scotland residents of Eilean Siar, Orkney and Shetland have the happiest lives, giving an average score of 7.99. By comparison, people living in Dundee had a relatively paltry score of 7.02.
The study contradicts research by the Bank of Scotland released less than three months ago, which found that Dundonians were the second happiest people in Scotland, with Fifers among the least satisfied with their lives.
Glenn Everett, director of well-being at the Office for National Statistics, said: "We often talk of how the country is doing, usually in economic terms. Today's figures address how people are feeling about their lives.
"Overall, people are generally rating their lives higher than they did four years ago. But what is interesting is that they show a slight growth in inequality between people rating their lives highly and those reporting low levels of personal well-being. In other words, a growing inequality that policy makers need to consider."
Dundee is undergoing a major transformation thanks to the £1 billion waterfront redevelopment.
Last month GQ magazine named it "coolest little city in Britain" and then it made an appearance in the top 10 of the "UK's most creative towns and cities to live, work and play".
Art and design blog Creative Bloom praised Dundee for its creative and passionate people, its history and the way it nurtures local talent.
Lord Provost Bob Duncan said: "This survey is one of many and our own research shows people are positive about Dundee and the services we provide.
"There's so much going on and we are now starting to see new shops, cafes and restaurants opening up in places you wouldn't expect.
"Right now, Dundee is getting more and more buoyant as we move further towards the completion of the waterfront, which, I think, will cause figures to improve significantly."'Ridiculous'The Courier hit the streets to gauge reaction to the claims.
Local man Steven Donaldson, 39, said: "I think it's ridiculous. You have your up days and down days, when you're less happy. It depends on how the children behave."
Visitor Ann Hammell, 59, said: "I'm from Ayrshire but my daughter studied for four years in Dundee so we came through regularly and loved every minute. My husband and I are just travelling through today and were saying how friendly all the people are."
And local woman Lynsey Berry, 33, added: "Everybody hasmiserable days but I don't think Dundee is more miserable than anywhere else maybe just on certain days."