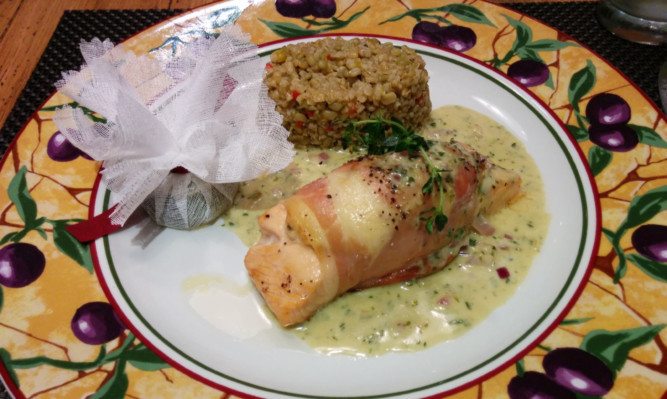 After a week staying in a self-catering holiday cottage at Errichel Farm, around a mile south of Aberfeldy, we had fallen in love with the magnificent views, walks and fresh air.
So what better way to spend our last night in Highland Perthshire than with a proper family meal at the Thyme at Errichel Restaurant?
Just a 30-second walk from our cottage's front door, it's here that chef Paul Newman and his team aim to showcase the best in Scottish produce, sourcing quality local ingredients, along with flavours and influences from around the world.
Arriving at reception, and catching a glimpse of the chefs hard at work in the kitchen, we were invited by a jovial waitress to have a drink in the cosy, lamp-lit, beamed lounge, which houses a large fireplace and rows of wall-mounted bookcases.
The drinks menu features a wide range of beers from Inveralmond Brewery and the Head East from Strathbrann Brewery. Thyme also boasts an impressive range of Scottish botanical gins from Strathearn Distillery, based in Methven, and ever popular Caoruun from Balmenach on Speyside. And if whisky is your thing, the selection includes Dewar's distilled in nearby Aberfeldy and Edradour from Pitlochry.
We were shown to a table in the main restaurant area, where the stone walls contrasted with a large roundel-styled roof, while the windows looked out on to trees floodlit in multicolour.
There was no children's menu but the staff were only too pleased to create a handmade pizza for our nine-year-old and six-year-old, served with baskets of real chips. The smiles told their own story when the food arrived.
To start, my wife went for the leek terrine with flat-leaf parsley sauce. I decided on Paul's own beetroot-cured Wester Ross Scottish salmon with essence of citrus, horseradish and Dewar's White Label whisky, served with pickled cucumber and honey mustard dressing. The taste was mouth-watering, the presentation excellent.
For mains, my wife chose the baked Wester Ross Scottish salmon topped with prawn mousse and wrapped in Parma ham, with an orange and lemon cream sauce, served with freekeh.
As for me, this was no time to feel guilty. I'd been out inspecting the pigs during our stay at the nearby holiday cottage and wanted to sample something produced locally. So it had to be the Toulouse sausage made with Errichel pork with red onion and golden raisin mash, accompanied by braised red cabbage and chestnut. It was very tasty indeed and reassuring to know how and where the meat had been reared.
Other tempting options on the menu included the traditional Cape Malay beef curry with Thyme's Shetland cattle enriched with coconut, apricots and raisins, or Fife's renowned Puddledub Buffalo Farm buffalo sirloin steak, served with roasted shallot, vine ripe tomato, portabello mushroom and cut chips.
Despite feeling stuffed, room was found for dessert. For me, that meant the chocolate fudge brownie served with Stewart Tower vanilla ice cream and fresh fruit coulis.
My wife couldn't resist the rich puff pastry topped with patisserie cream and sliced apples, served with Seville marmalade ice cream. Again the presentation was imaginative.
And as for the kids? A simple serving of ice cream went down a treat. That and a mini bag of Maltesers to take home left smiles all round.
Thyme also caters for small to medium-sized weddings, events, conferences and cookery school events.
We thoroughly enjoyed our meal as the finale to our holiday. But for anyone travelling from further afield for a night out, the menu would be well worth the trip.
Rating: 44/50.
Price: Three courses: £35; two courses: £29.
Info: www.errichel.co.uk.