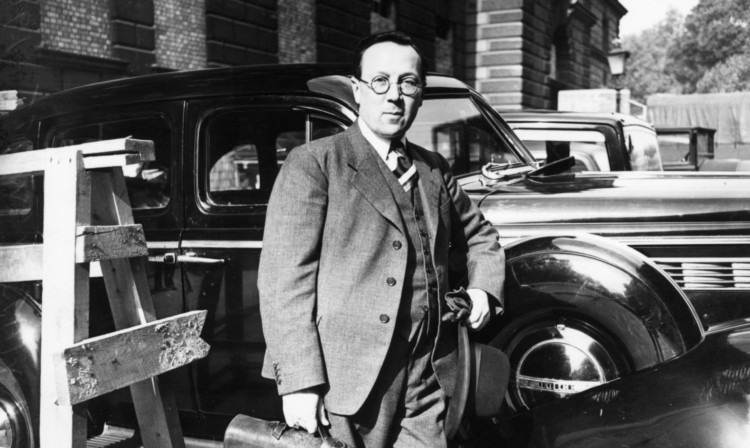 The Brechin-born pioneer of radar who was a key figure in the Battle of Britain victory has been added to the Scottish Engineering Hall of Fame.
Sir Robert Watson-Watt was honoured at the James Watt Dinner in Glasgow along with Tay and Forth bridges engineer Sir William Arrol, pioneer of thermodynamics William John MacQuorn Rankine and bionic hand boffin Hugh Gill.
The event was hosted by the Institution of Engineers and Shipbuilders in Scotland.
A descendant of steam engine creator James Watt, Watson-Watt (18921973) was educated at Brechin High School andstudied at University College, Dundee, which would later become Dundee University.
As war loomed in the 30s, he was asked by the government to find a way to track aircraft amid fears the Nazis has developed a "death ray" which could destroy towns and cities from the air.
His response was a report on detecting aircraft by radio methods, and his theories later proved successful in a trial against a Heyford Bomber.
Watson-Watt was subsequently put in charge of the Air Ministry's Bawdsey Research Station near Felixstowe.
His work at Bawdsey resulted in a chain of radar stations being set up along the east and south coasts of England in time for the outbreak of war in 1939.
This system provided vital advance warning of incoming attack and helped the Royal Air Force win the Battle of Britain.
Brechin High School head teacher Steve Dempsey has a personal interest in Watson-Watt's achievements, being a physics teacher and member of the local Robert Watson-Watt Society.
He said: "As a school we are very proud of the achievements of Watson-Watt.
"Watson-Watt was a key figure in winning the Battle of Britain."
The man behind two of Scotland's most iconic structures was also recognized at the James Watt Dinner.
Born in Renfrewshire, Sir William Arrol (18391913) left school at nine to work in a cotton mill, but went on to train as a blacksmith and work all over the country, and was appointed as a foreman at the age of just 24.
He later set up his own company and some surviving examples of Sir William Arrol & Co's work include the Forth Bridge, Tower Bridge in London and Clydebank's Titan Crane.
And, after the collapse of Thomas Bouch's Tay Bridge in 1879, the project to build a replacement was entrusted to Arrol and his company.
Arrol's bridge still stands today beside the stumps of Bouch's failed structure,
MacQuorn Rankine (18201872) was one of the "northern wizards" of mathematical physics, alongside Lord Kelvin and James Clerk Maxwell.
The only surviving engineer to be honoured, Mr Gill is director of technology and operations at Touch Bionics of Livingston, and has advanced the capabilities the i-LIMB bionic hand invented by David Gow.