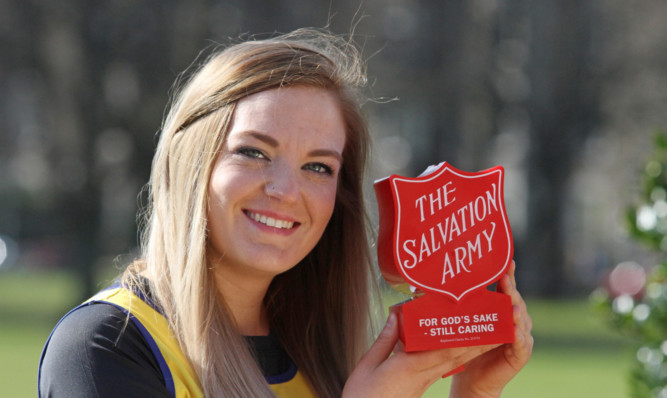 A Dundee volunteer with generations of Salvation Army service in her blood has shed seven stone to run the London Marathon.
A little over 18 months ago Carla Page decided to get healthy and lose weight, and in less than a month she will be competing in the race.
Carla, 22, lost an incredible 7st by changing her eating habits and exercising regularly and now wants to use her new-found love of running to help some of the most disadvantaged in society.
She is running the marathon for the first time to raise money for victims of modern slavery, working with the Salvation Army to help build safe houses and reach out to those who have been afflicted by the ordeal.
Hoping to raise £2,000, she is shy of her target by £800 and is organising an evening of music tonight at the Central Baptist Church to help raise funds for the event.
Carla is no stranger to helping those in need and has been involved with the Salvation Army in Dundee since she was a toddler.
She comes from a long line of family members who have worked with the organisation and her dad works for the organisation in London.
Starting off with changes to her diet and increasing the levels of exercise she was doing, Carla soon realised she had a passion for running.
"I started to lose weight and tried different types of exercise and I found running to be very therapeutic," she said.
"I started running short distances and ran in 5km and 10km runs and I thought about making the next step up and running a half marathon.
"Watching the London Marathon on TV, I noticed there were people of all ages and abilities taking part. I thought if a 70-year-old can do it then so can I."
Carla is working hard on her exercise routine and is dealing with the common complaints that anyone training for a marathon might have, but said they paled in to insignificance in comparison to what those suffering from slavery and human trafficking were facing.
"Muscle aches, joint pain and blisters have become the bane of my life," she said.
"But a couple of blisters are insignificant in comparison to what the victims of human trafficking have to endure."
She hopes to complete the marathon in less than six hours, but said that even if it took her 100 hours, as long as she completes the race she will be happy with her achievement.
Tickets for Carla's concert cost £5, with all of the proceeds going towards her marathon target.
You can donate on her Virgin Money page at uk.virginmoneygiving.com/CarlaPage.