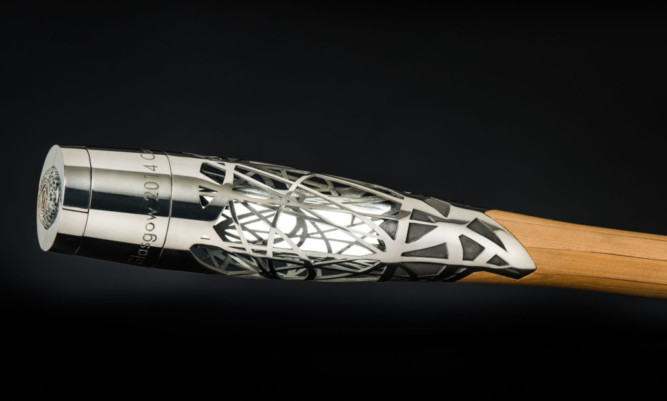 The baton which will make its way across the Commonwealth ahead of the 2014 games in Glasgow has been unveiled.
The hand-crafted baton is made of titanium, wood and granite, and will display an illuminated personal message from the Queen, calling athletes to Scotland for the start of the Commonwealth Games.
The baton will begin its journey on October 9 at a ceremony at Buckingham Palace before travelling 100,000 miles to all 71 Commonwealth nations and territories, and arriving back in Scotland in June next year.
On its final leg, it will travel the length and breadth of Scotland on the way to its ultimate destination, the opening ceremony, where the Queen's message will be read and the games will be declared open.
The baton was unveiled at Glasgow's Riverside Museum on Friday, when it was formally presented to Lord Smith of Kelvin, chairman of Glasgow 2014, by Scotland's most successful Commonwealth athlete Allan Wells, who was recently announced as a games ambassador.
The former Scottish Olympic and Commonwealth gold sprinter and winner of the 100m title at the 1980 Moscow Olympic Games was the final baton-bearer at the last Commonwealth Games on Scottish soil in Edinburgh in 1986.
Wells will also be among the first baton-bearers for the Glasgow 2014 Queen's Baton Relay when it leaves from Buckingham Palace later this year.
Lord Smith of Kelvin said: "The Queen's Baton Relay is a great tradition of the Commonwealth Games and a wonderful opportunity for Glasgow and Scotland to share our culture and heritage with the citizens of the Commonwealth."