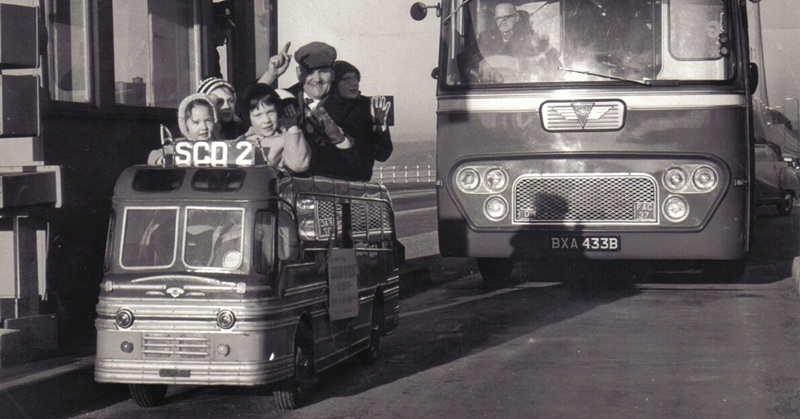 A piece of Angus transport heritage is to make a journey down memory lane.
Over 50 years on from taking part in the history of the Forth Road Bridge, a miniature coach regularly seen on the Arbroath seafront will again cross the bridge during a celebration week this summer.The tiny bus is part of the Kerr's Miniature Railway road fleet of two miniature buses and a fire engine.
One of the buses ran ahead of a full-sized counterpart in the 1960s as bus trips across the bridge began and in June, teenager John Kerr will take the bus back to South Queensferry.
Arbroath High pupil John (15) now runs the Angus attraction founded by his grandfather Matthew, then operated by his dad Matt until he died in 2006 and he is proud to be taking the coach back to the Forth.
"The first bus was made in 1953, the second two years later, followed by the fire engine," said John, who is juggling exams with leading the volunteers who keep the railway running.
"We have the photos of my granddad at the bridge, with the big bus behind him, so to be asked back again is a great honour."
Powered by 200cc Villiers motorcycle engines, the buses are a big hit with youngsters and different liveries down the years have reflected the changing face of Tayside's bus services from the old Eastern Scottish to current names including Strathtay Scottish and Fisher's Tours.
"The buses are road legal so hopefully we may be able to run one across the bridge again, if not on the main road itself then at least on the walkway," added John.
"We're going down for the day on Saturday, June 18, and will also be giving rides to visitors in the car park as part of the celebration, so it's going to be a memorable day," he said.
The June 18 event is part of an open week being held following the success of a similar venture a couple of years ago.