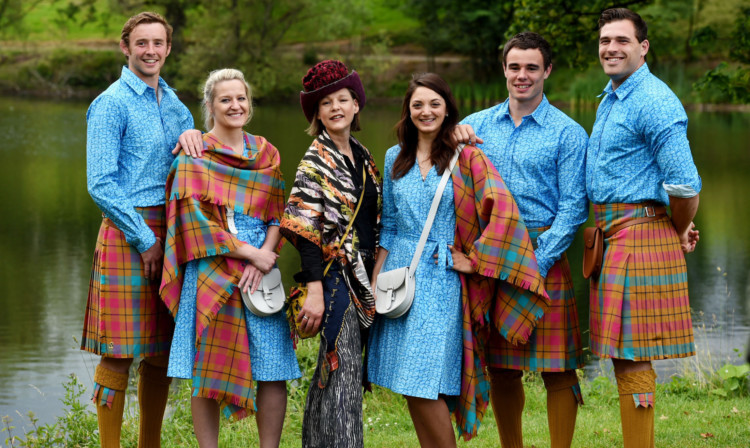 The designer of Scotland's under-fire Commonwealth Games parade uniform says the reaction of the country's athletes is all that matters to her.
Jilli Blackwood said Team Scotland's positive reaction to the outfits was "the only thing that counts" and defended her controversial design in the face of a social media "melee".
Amid a storm of reaction, almost 2,000 people took part in a Courier online poll asking what they thought of the new turquoise and tartan parade uniforms with 90% registering their displeasure.
Comments ranged from "horrendous" to comparisons with "travel rugs and granny's old curtains."
Ms Blackwood told The Courier: "Does it hurt? I don't think I would be human if it didn't but I'm very brave and moving on all the time.
"Of course there's going to be reaction. If I had got no reaction, I think that would have been far more upsetting."
The uniform combines a turquoise, fuchsia, navy blue and caramel tartan with a blue shirt for the men, and a flowing wrap-around dress for the women.
Ms Blackwood said the Scottish athletes' reaction to her design had been "overwhelmingly positive."
She said: "I've been receiving some wonderful emails, which helps to balance out the melee going on in social media.
"The only thing that counts is how the Scottish team feels, as far as I'm concerned.
"It was released to them privately the day before and the response, the energy, the clapping, the wowing was unbelievable. It couldn't have been better.
"It has to be bold. This is a high-impact statement we are going to make. That's in the brief.
"On Sunday I went into the sports centre and they were handing out all the parade uniforms and I was so touched by the responses from the athletes themselves.""Opportunity missed"Fashion writer Christina Miller said the games' organisers had missed an opportunity to showcase new Scottish talent.
She said: "I think that we could have supported an up-and-coming recent graduate. Jilli's designs are very bold, she's a self-confessed colourist, but I think the majority of people didn't know the designer so it did come as a bit of a shock.
"The one colour that comes to mind when you're thinking of Scotland is dark blue or navy. I think maybe navy shirts and navy dresses would have been better. It's a quietly confident colour rather than the turquoise print. I think it was all fighting for attention."
Christina, who edits the Daydreamer blog, said the online reaction was to be expected.
She said: "On social media, it's easy for things to snowball.
"The uniform is very visual and very bright and there would have been such a strong opinion on it either way.
"You can't please everybody and there's always that element who are going to hate it. It's just taste.
"We need to remember it's a sporting event and not a fashion event and the main thing is that we do well at the games.
"Of course it's good to make a statement and we are the host nation.
"We do want to stand out and say something, but I don't know if we are saying the right thing."
Read more from Christina at www.huffingtonpost.co.uk.