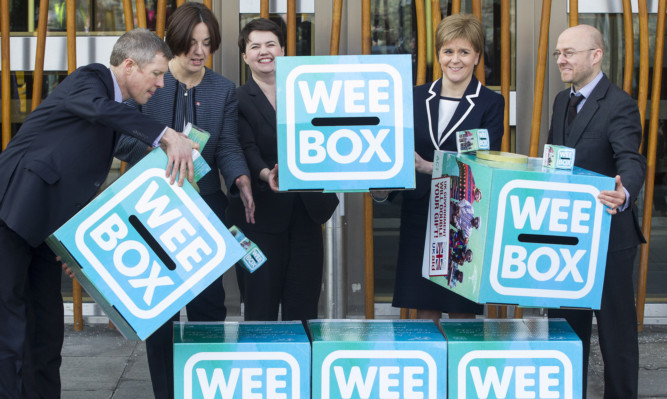 Party leaders have joined forces to support a charity's global poverty appeal.
Sciaf's Wee Box Lent appeal is aimed at raising funds to help families living with hunger, poverty, war and natural disasters.
First Minister Nicola Sturgeon, the Labour, Conservative and Liberal Democrat leaders – Kezia Dugdale, Ruth Davidson and Willie Rennie – plus Green Party co-convenor Patrick Harvie have all given their backing to the charity's work.
This year's appeal is telling the story of how the organisation is helping poor cattle herders in Ethiopia cope with drought and climate change.
Ms Sturgeon said: "Sciaf had a very humble beginning back in 1965 but has now grown to be a Scottish charity that we should all be extremely proud of. They have helped millions of people in the most difficult circumstances to recover from natural disasters and war, and to work their way out of poverty.
"By supporting the Wee Box appeal we are standing together to promote a fairer and better world through the provision of practical help like seeds and farm tools so that people can grow food and support themselves into a better future."
Ms Dugdale said: "Sciaf's work provides essential support to people throughout the world. Thanks to donations from people in Scotland, families in the poorest parts of our world are given a glimmer of hope."
Other high profile supporters of the appeal include Scotland football manager Gordon Strachan, Deacon Blue's Ricky Ross, singer Susan Boyle, entertainer Michelle McManus and comedian Des Clark.
Sciaf director Alistair Dutton welcomed the support, and said: "By giving to the Wee Box appeal we can make sure that people in some of the poorest countries in the world get the help they need to work their way out of poverty and have a better future."
Last year, supporters in Scotland donated £1.8 million to the appeal.