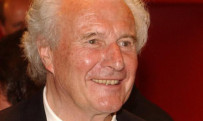 Tributes have poured in for Sir Colin Davis, president of the London Symphony Orchestra (LSO), who has died at the age of 85.
Sir Colin first conducted the LSO in 1959 and became its principal conductor in 1995.
In a statement the LSO said: "He was the longest-serving principal conductor in the LSO's history and has been at the head of the LSO family for many years.
"His musicianship and his humanity have been cherished by musicians and audiences alike."
The LSO said Sir Colin's role in British musical life was immense", adding that "music lovers across the world have been inspired by his performances and recordings".
Sir Colin, who was knighted in 1980, was known for his interpretations of Mozart, Sibelius and Berlioz, the LSO said.
In his long career he was twice named Classic Brit Male Artist of the Year, most recently in 2008. Tributes were paid to the composer on a memorial page on the LSO's website.
Borjan Canev of the Macedonian Philharmonic Orchestra wrote: "Rest in peace Sir Colin, and thank you for being my inspiration."
Peter Niven wrote: "This is such sad news. As a member of the London Symphony Chorus, I was conducted many times in concerts by Sir Colin. He was a wonderful, generous musician who will be greatly missed."