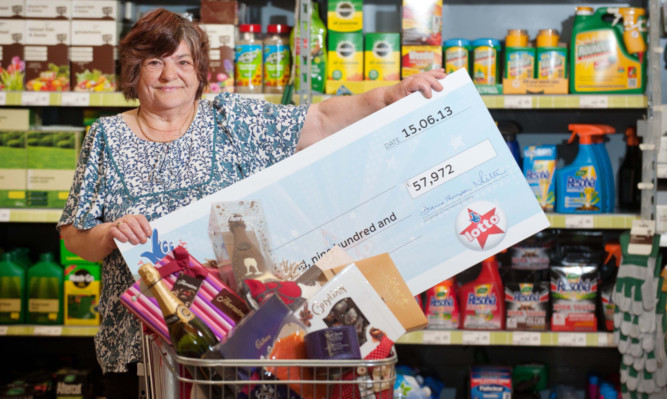 A Dundee woman who scooped more than £50,000 on the National Lottery initially thought she had only won £53.
Olive Scott, 66, from Kirkton, was watching the Saturday draw with her 20-year-old grandson Kyle when she matched five numbers and the bonus ball.
Both were initially excited, thinking that she had won £53.
"It was not until the next day when my son took the ticket to the local shop that we realised we'd won more," she said, after a bemused shopkeeper said he could not pay out such a large win over the counter.
"We had to sit her down when we told her and then when she found out (the true winnings) she just couldn't stop crying," said her 42-year-old daughter, Karen.
The former worker at Asda, Kirkton, told how she won £57,972 with numbers she changed only weeks before because "the old ones just never came up".
"I've played the lottery ever since it started but I've only ever won £10 before," she said. "I just feel over the moon I never normally win," she added.
The retired cleaner and school dinner lady celebrated her win with her regular trip to the bingo.
"I'm feeling very lucky just now, so hopefully that might rub off on the bingo too," she said.
Mrs Scott intends to spend the majority of the winnings on a makeover for her semi-detached house, which will include a new bathroom and carpets.
"I'd recently started painting our entire house but had to stop because I ran out of money," she said.
"The first port of call is getting a new hall carpet to replace the one that is covered with paint splatter and then I'll finish off the painting and get a new bathroom."
However, she added: "I do hope to take the whole family on a nice holiday.
"Kyle has already asked for a new computer and I'm sure Karen and I will treat ourselves to a shopping spree. It will be just lovely to splash out."