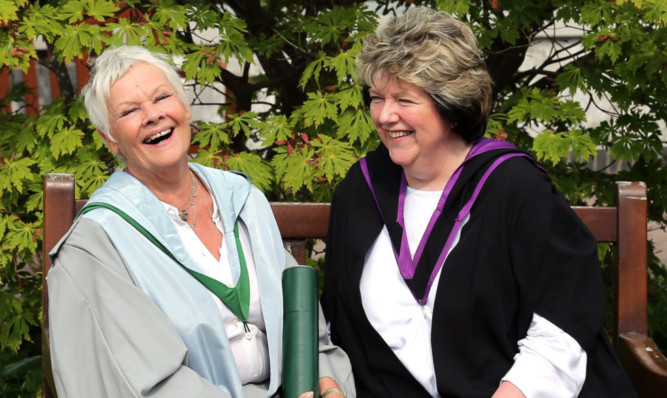 Stirling University honoured Oscar-winning actress Dame Judi Dench with a doctorate in recognition of her outstanding contribution to the arts.
The university paid special tribute to the role the actress has played in highlighting the work of the on-campus Dementia Services Development Centre.
In 2002, Dame Judi won a Bafta for her portrayal of Iris Murdoch, a British novelist affected by dementia towards the end of her life, in the film Iris.
In 2003, she officially opened the university's Iris Murdoch Building, which acts both as a base for the Dementia Centre and a model for dementia-friendly design.
Dame Judi Dench said: "I am delighted to receive this award from the University of Stirling an institution which is recognised internationally for its outstanding dementia research and support services.
"Dementia is an issue close to my heart. Playing Iris Murdoch was one of my most challenging roles, but also one of the most important as it broadened my understanding of the issues facing those who develop dementia.
"When I formally opened the Iris Murdoch Building more than a decade ago, I was delighted to see a public building which could provide an exemplar for dementia-friendly design.
Coming back to the university, it is so encouraging to see the myriad of ways the Dementia Services Development Centre and its staff have informed practice and made a positive difference to people's lives.
"I would like to thank the university and the Dementia Services Development Centre for honouring me with this degree and I hope my presence here today will further highlight the world-class research they carry out."
Professor June Andrews, director of the Dementia Services Development Centre in the university's school of applied social science said: "It's a great honour for the centre to be associated with Dame Judi.
"She's a wonderful role model for our students working as hard as ever in a job she loves, long after other people have retired.
"She hates the idea of older people being left with nothing to keep their minds busy and she is determined not to be made to put her feet up." She added: "Our courses teach students ways of keeping people busy and happy and well, not least through exercise, and we could not have a better example that demonstrates what our research tells us."
The university also awarded an honorary doctorate to Sheikh Dr Ahmed Abdullah Al Ghazali in recognition of his outstanding contribution to education in Oman.
Wildlife documentary maker Gordon Buchanan will be named Doctor of the University in recognition of his services to conservation at a ceremony on campus today.
Nearly 2,000 students representing 58 nationalities will graduate in a range of academic programmes across seven schools during the two-day ceremony.