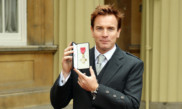 Crieff-born Hollywood star Ewan McGregor donned traditional Highland dress to collect an OBE at Buckingham Palace.
The Star Wars actor and Unicef spokesman was recognised in the New Year Honours list for services to drama and charity. He said there was never any doubt he would wear a kilt to receive the gong from Prince Charles.
"I didn't have to think about it, that was always what I was going to wear," he said.
"If you don't wear your kilt here, I don't know where you are going to wear it."
The 42-year-old, whose portrayal of Mark Renton in Trainspotting shot him to international fame in 1996, also spoke about the possibility of returning to the role two decades later.
He said: "I have not been approached officially, but I would be up for it and there has been talk about it happening in 2016, 20 years after we did Trainspotting.
"The sequel is called Porno, so I have to be careful about saying I am doing Porno in 2016."
But he ruled himself out of returning to the part of young Obi-Wan Kenobi in the new Star Wars sequel trilogy because the films he took part in were prequels.
And after doing work on films called Son Of A Gun and Jane Got A Gun, he joked: "I'm only doing films with guns in the title at the moment."
In attendance with two of his four daughters and wife, McGregor also praised the volunteers at Unicef and Go Campaign, the children's charities he supports.
"The volunteers live and work in really difficult places they are the people who should be awarded," he said.
McGregor chatted and posed for photographs with London Olympics double gold medallist, Mo Farah, who was at the palace to get a CBE for services to athletics.
The man who became the face of the golden summer for British athletics thanks to his 5,000 and 10,000 metre victories and "Mobot" celebration backed Perthshire tennis star Andy Murray to win Wimbledon.
He said: "I believe this year he can win it."
He added: "I never in my life imagined coming to Buckingham Palace.
"I remember running past it in the mini-marathon as a kid when I was 13 and thinking it was so beautiful and taking pictures of the lion, so coming inside and receiving this award is great.
"Prince Charles said 'You must be getting sick of so many medals' and to hear someone like the Prince of Wales knows who you are is just brilliant.
"I'm not tired of it at all, I just want to make my country proud and collect as many medals in my career as I can."