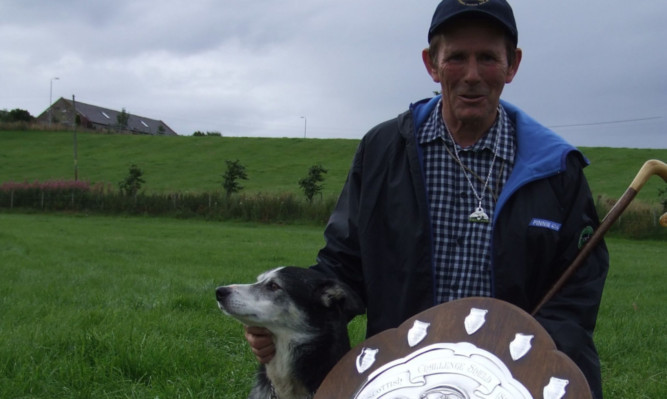 Caithness livestock farmer Michael Shearer, Bridge of Westfield, brought three days of sheepdog trialling at Tillybin Farm, Kintore, Aberdeenshire, to a dramatic close.
He finished first and third with his home-bred dogs Jim and Bob, respectively.
Courier Country held its own with four of the top six places won by dogs from the area.
Taking second place between Jim and Bob, was Saline farmer Ian Brownlie, with Boredale Gus.
Hot on the heels of Gus was Mosse Magnusson from Alyth, who works as a shepherd and sheepdog trainer.
Mosse claimed fourth and fifth places with Llanfarian Jim and Mylinn Davey, respectively.
Ian Brownlie finished the remarkable list of three handlers each with two dogs in the top six places in the Scottish team.
Michael had taken the lead with Jim on the first day, but late on the final afternoon a handful of 'team standard' runs saw spectators recalculating the likely rearrangement of the leader board while waiting for each batch of scores.
One run that some thought might overtake Jim's was that of his senior kennelmate, eight-year-old Bob.
However, Bob was third and Jim took the title of champion of Scottish National sheepdog trialling 2013 ahead of a high- scoring prize list.
The trial saw nearly 2,000 visitors through the gates over the three days.
International Sheepdog Society chairman Jim Easton, praised the local committee for their organisation of the trial and its smooth running.
The team is due to represent Scotland at the international trial at Stoneleigh next month, competing against teams from England, Wales and Ireland.
Results
Team: 1 MC Shearer's Jim, Bridge of Westfield, 198 /220; 2 IM Brownlie's Boredale Gus, Forestmill, 196; 3 MC Shearer's Bob, Bridge of Westfield, 194; 4 M Magnusson's Llanfarian Jim, Ardormie, 194; 5 M Magnusson's Mylinn Davey, Ardormie, 191; 6 IM Brownlie's Mo, Forestmill, 190; 7 F Shennan's Fizz, Barr, 189; 8 N Gillon's Bhoy, Dailly, 188; 9 P Martin's Jill, Glenlyon,188; 10 JR Welsh's Tanhill Sam, Dalrymple, 187 Outbye;
Brace: 1 J Hill's Mac & Ban, Heriot, 235 /280; 2 H MacLean's Roy & Kim, Culloden, 193.