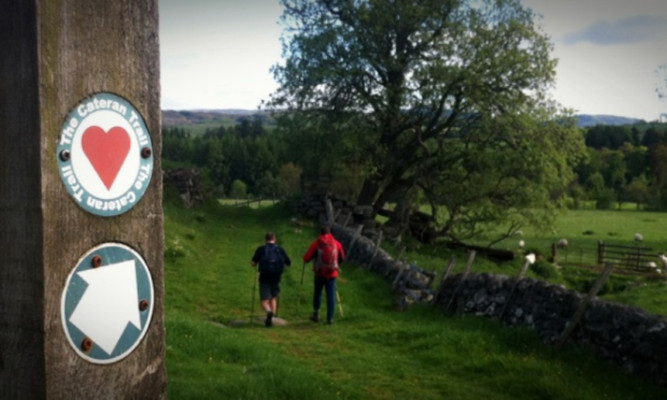 A Cateran clansman descended on Edinburgh to challenge Scots to gather their teams and enter this year's Alliance Trust Cateran Yomp.
The Cateran calls for brave Scots to escape the city and embark on the Yomp of their lives a 52-mile hike across the Cateran Trail, starting and finishing in Blairgowrie on June 15-16.
Scotland's big walk raises money for serving and former soldiers and their families by walking 22 miles (bronze route), 36.5 miles (silver) or 52 miles (gold) across some of Scotland's most stunning terrain.
The Caterans' nurtured and protected trail leads Yompers through Kirkmichael, Spittal of Glenshee and Kirton on Glenisla and New Bamff.
https://youtube.com/watch?v=ffhagb08PvQ%3Frel%3D0
Originally used by Cateran cattle rustlers up until the 17th century, the Yomp is now an unspoilt beacon for those seeking a challenge.
The Courier is an event sponsor, and last year our team completed the gold route.
Entry to the Yomp is £99 per person, which includes costs for food, camping facilities, support and activities across the route. Those registering before February 28 will be offered the early bird entry price of £80 per person.
Visit www.soldierscharity.org/yomp to sign up.