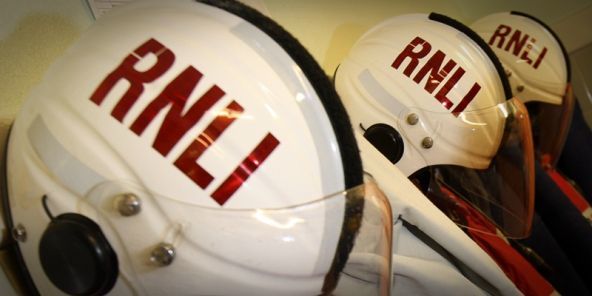 Two Dundee men who thought they were "done for" after being stranded in freezing water have presented their rescuers with a card from a grateful youngster thanking them for saving their lives.
Gavin Smith and Ben Thomson spent more than two hours with a broken-down jet-ski in the treacherous water of the Tay estuary before being plucked to safety by the Arbroath lifeboat crew.
Gavin (28) and Ben (32) arrived at the RNLI lifeboat station with a few boxes of beer and a card Ben's one-year-old son, also called Ben, had made with the words: "Thank you for saving my daddy and my uncle, it means the world to me."
The pair had been on a jet-ski that broke down on Sunday and were waiting for help while a companion on his own jet-ski returned to shore and raised the alarm.
As darkness fell a helicopter and lifeboats searched for the pair.
Gavin said: "The helicopter flew right over us and once it had been and gone I thought we were done for.
"I can't tell you how relieved we were when the lifeboat spotted us.'
Ben added: "It was a series of events that got us into the situation we were in.
"By the time Arbroath lifeboat picked us up we were in a really bad way.
"I just want to express my thanks to the crew, without them I don't know if I would be here today."
The two men got into difficulty on Sunday afternoon after suffering engine failure.
Broughty Ferry launched two lifeboats at around 2.30pm and began searching the area.
They were joined by the all-weather lifeboat from Arbroath.
Andrew Spence, of Arbroath RNLI, said: "We had been searching for about an hour, the conditions were poor with a four-metre swell and fading light, there was just enough to light up the sea in front of us.
"We stopped to receive instructions over the radio and I heard whistles and shouting.
"They were probably 200 metres away, but we couldn't see them.
"I told them to keep shouting and we were able to pin point their position.
"We came alongside, got both casualties onboard, assessed their condition and administered first aid."