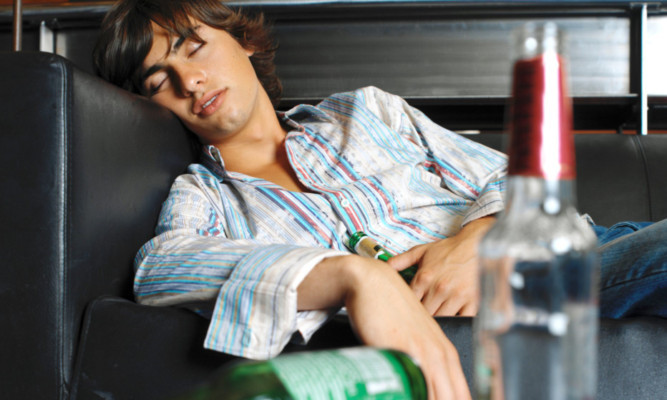 PUB LANDLORDS and shop owners who sell alcohol to drunks should be hit with fines, it has been claimed.
Under Section 113 of the Licensing (Scotland) Act 2005 it is a criminal offence for any responsible person to sell alcohol to someone who is intoxicated. Those found guilty can be fined.
However, just five people have been fined for the offence since 2009 and three of those prosecutions occurred in that year alone.
Scottish Liberal Democrat justice spokeswoman Alison McInnes is now calling for the powers to be used more frequently over the festive season.
She claims this could help curb anti-social behaviour caused by binge drinking.
"Our festive spirits shouldn't be dampened by the anti-social behaviour caused by binge-drinking," she said. "Not selling alcohol to people who are already drunk isn't just common sense, it's the law. These figures seem completely out of touch with reality.
"We know that Scotland has a deep-seated unhealthy relationship with alcohol. Binge-drinking wreaks havoc in our towns and city centres."
The Scottish Government has introduced a range of measures to tackle the problem, including introducing a minimum price of 50p per unit.
Although this is expected to come into force next year, the policy is being challenged in the Scottish courts and the European Commission has said it has concerns about whether minimum pricing is legal.
"Alcohol misuse costs Scotland an eye-watering £3.6 billion per year," Ms McInnes said.
"Liberal Democrats are pleased to have supported a ban on multi-buy deals and minimum pricing, which will have a significant impact on the scourge of alcohol misuse in our communities.
"However, if we are serious about tackling alcohol misuse, we need to use all tools at our disposal and the law must be enforced. People should be able to go out in our town centres and enjoy themselves over the festive period without having to worry about alcohol-related anti-social behaviour."
A Scottish Government spokesperson said licensing boards and procurator fiscals should use all available powers to help tackle anti-social binge drinking
He said: "Use of fiscal fines is a matter for individual procurator fiscals, based on the evidence presented to them.
"The sale of alcohol to a drunken person on licensed premises is an offence.
"Any licensed premises found to be selling alcohol to drunk people can face a range of measures from their local licensing board, which can include reviewing the terms of their licence.
"We encourage licensing boards to make full use of the powers available to them to crack down on instances of licensed premises selling alcohol to drunk people."
smorkis@thecourier.co.uk