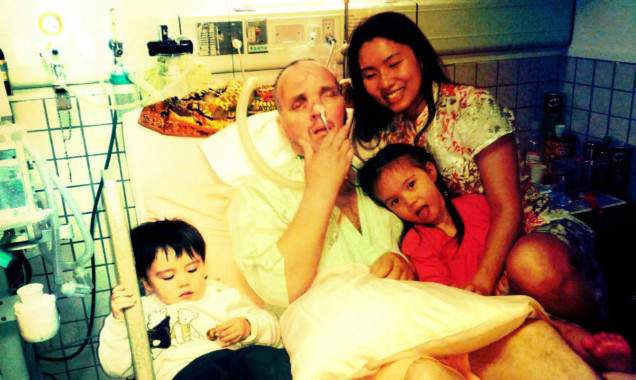 A FORMER Broughty Ferry man who was given only a 1% chance of survival following a horrific scooter accident in Taiwan will see in the New Year at home with his family.
Kevin Skelly suffered a massive brain trauma and was in a coma for eight weeks after he came off his bike on the way home from work at Carnegie's pub in Taipei in February. He also suffered a collapsed lung and various broken bones.
After months in hospital and several operations, he is home in Taipei with his wife Jenny and children Ciara and Callum.
Kevin's older brother Tam, who flew to Taiwan as soon as he heard about the accident, was over visiting him last month with his daughter Shannon and said there's been a huge improvement.
"He's physically a lot better," Tam said. "He can walk and he can talk now. He's certainly looking a lot better, even from the last time I saw him.
"He's had quite a bit of work on his face. He's still got a way to go, though. The brain's still not functioning properly."
Tam, who is from Lochee, said it was an emotional meeting with Kevin.
"I found it quite hard," he said. "He's only got 1% vision in one eye, which was hard to take. Time will tell if he gets it back. It's a big time in recovery.
"They say it could take 18 months but we would have taken 18 months back in February when we were told he only had a 1% chance of survival."
Kevin was involved in a collision with another scooter at an accident blackspot.
Jenny and the children were following him in the car and saw the whole accident.
Kevin underwent an intense six hours of brain surgery and remained in the intensive care unit in a coma for the next eight weeks.
Since then he has undergone more surgery, including having a drip in his brain and facial reconstruction.
Friends and family in Taiwan and Dundee quickly rallied round to raise money to help Kevin and Jenny pay for the mounting hospital bills and now Kevin has onlyoutpatient appointments at the hospital.
Tam said: "He plays drums and he's been getting music therapy. He's also had another two operations recently, one on his face and one on his arm."
"It's great he's home for Christmas," he said. "He's hoping to come back to Dundee in February."
ksmyth@thecourier.co.uk