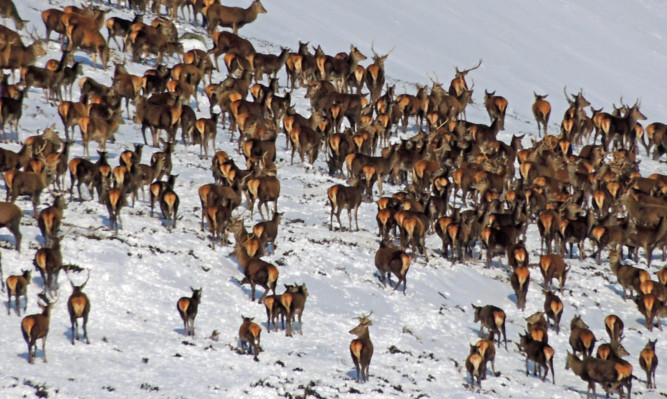 The Scottish Gamekeepers Association has condemned a race against time to slaughter almost 700 female deer and their calves in the Angus Glens for raising "serious welfare issues" for the animals.
With the deadline for the legal killing of the animals up, "deer champion" and vice-chairman of the SGA Peter Fraser said he believes the cull should be abandoned and the agreements re-examined to take into consideration other key factors not yet acted upon including the grazing of sheep and mountain hares.
The cull part of a 10-year agreement instigated by the Deer Commission for Scotland, which has now merged with Scottish Natural Heritage (SNH) was implemented to "protect the natural environment" by reducing excess deer numbers across the Glenisla, Glenprosen and Glenshee estates.
But adverse weather and continued snowfall have prevented the estates from getting access to the deer over the course of the winter for selective culling, meaning although the Caenlochan estates have succeeded in reducing herd numbers to a level of 20 per sq km, they have fallen short of the 19 per sq km target demanded by SNH.
SNH has now issued the estates with an extension to the culling season until the end of the month by which time a further 690 hinds and their calves must be destroyed.
Speaking to The Courier last week, Glenisla estates owner Major John Gibb said the only way to hit SNH's "out of date" target now is by "cruel" mass slaughter.
But Mr Fraser said: "While it is acknowledged some estates have failed to deliver the target, killing nearly 700 deer in two weeks raises serious welfare issues and the concern for the animals surely has to kick in.
"If this was to go ahead, government would be laying itself open to criticism of committing a wildlife crime."
A spokesman for SNH said: "The Scottish and UK Governments could face legal action if the condition of these protected areas, which are in poor condition, are not met."