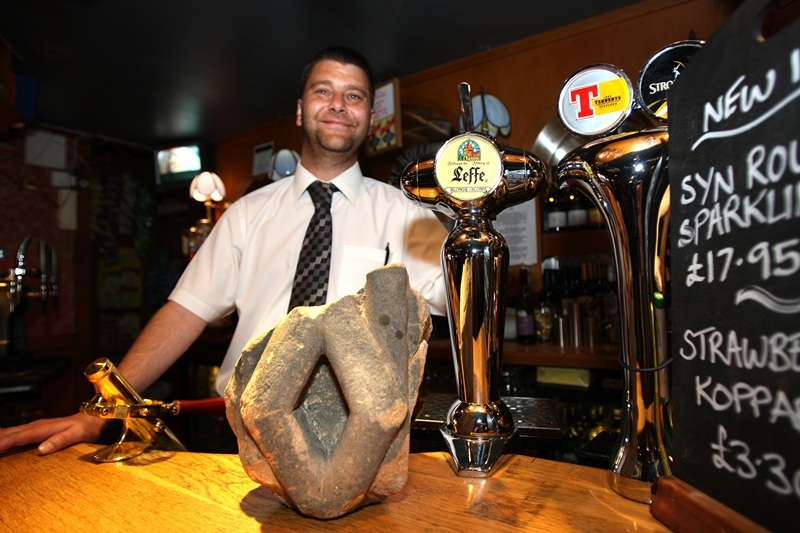 Remains of the Royal Arch the architectural gem which stood on Dundee's waterfront for more than 100 years have been rescued from their watery grave in the River Tay.
The arch, now consigned to the history books, was built in Dundee between 1849 and 1853 to commemorate a visit by Queen Victoria and Prince Albert in 1844.
It was demolished in early 1964 as part of the land reclamation scheme and to make way for the Tay Road Bridge.
On March 16, 1964, it was dynamited and the remains were thrown into the King William IV and Earl Grey Docks.
Afterwards the docks were filled to accommodate sliproads for the bridge.
Remains were discovered during preparatory work for the waterfront development to remove and rebuild the ramps at the Dundee end of the bridge.
A fragment of the original structure was presented to The Royal Arch bar in Broughty Ferry.
It now sits in the pub's lounge and is a hit with the regulars.
A plaque hangs above it, which reads, "A fragment of Dundee's Royal Arch monument.
"Recovered on 20th May, 2010, during preparatory work for the waterfront development."
Jonathan Stewart, who runs The Royal Arch and Speedwell Bar known as Mennies with his father, also Jonathan said, "A customer who comes into Mennies was working down there.
"They found a few pieces and he brought one of them in to display in The Royal Arch.
"There's other bits as well and it's got the markings on it that you see in the pictures.
"The customers have all been interested and it's on display in the lounge."
He added, "We are called The Royal Arch and now we've got a piece of the original in the pub.
"It's fantastic."
The Royal Arch consisted of a large, triumphal arch, flanked by two smaller side arches, and surmounted by two central turrets. It was 80 feet across.
Costing somewhere between £2270 and £3000, it was mostly funded by public subscription and harbour trustees.
It was situated at the King William IV Dock on the south side of Dock Street between the junctions of Castle Street and Whitehall Crescent.
After winning a design competition, John Thomas Rochead designed the sandstone monument to replace the original wooden one, designed by harbour engineer James Leslie, that had been erected for the royal visit on September 11, 1844.
Queen Victoria and Prince Albert were on a visit to Lord Glenlyon and the Duke of Atholl and landed under the Royal Arch.
They returned and embarked for London on October 1, 1844.
It was Dundee's first royal visit since the 17th century.
Mr Rochead also designed the Wallace Monument in Stirling.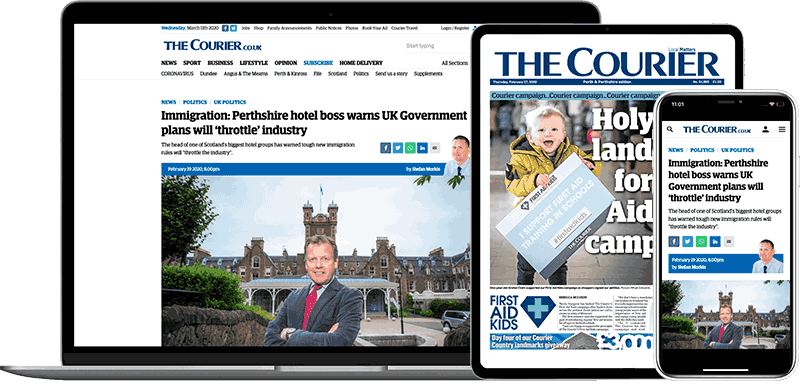 Help support quality local journalism … become a digital subscriber to The Courier
For as little as £5.99 a month you can access all of our content, including Premium articles.
Subscribe