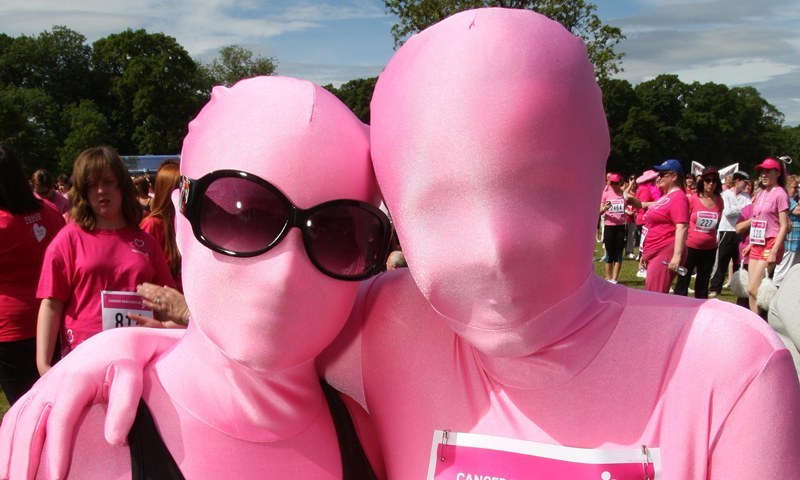 Visitors to Camperdown Park in Dundee were greeted by a sea of fluorescent pink as more than 3000 women limbered up for the 2010 Race for Life 5K event.
Runners in Sunday's 5K and the previous day's 10K races together raised around £230,000 for Cancer Research UK, said delighted event manager Carolyn Johnston.
The main event was so popular an extra start had to be laid on for those who missed the starting klaxon because they were held up in the queue of traffic snaking into Camperdown Park.
After delaying briefly, organisers decided it would be unfair to keep the crowd of women and children waiting any longer in the baking sunshine and kicked off the race for runners and joggers and, shortly afterwards, for those planning to walk the course.
However, organisers reassured the stragglers they would not miss out and would be able to start later than scheduled.
"Don't worry, no one will be left behind," Carolyn told them. "This is what happens when you have more than 3000 women taking part in a very special event."
Among those running were Scotland's Public Health Minister Shona Robison and her daughter Morag (6), along with teams from what appeared to be just about every business, school and educational institution in the area.
A giant pink caterpillar negotiated the course held aloft, Chinese dragon style, by a team organised by the Cancer Research UK shop in Lochee.
The Dundee College entrants included two-year-old twins Holly and Libby Carroll, the nieces of Gill Scott from the college finance team.
The pair are old hands at the event, having been pushed around the course in a double buggy last year.
Gill has helped the college raise nearly £30,000 for Cancer Research UK over the past three years.
Lord Provost John Letford stood at the start line and applauded each runner as they passed.PoignantIt was a particularly poignant occasion for him, coming just days after the first anniversary of the death of his wife Betty from cancer.
"This is a fantastic event in the first instance, and all these ladies are doing a magnificent job in fund-raising for cancer research and obviously I can relate to that," he said.
First across the finish line on Sunday was Alexandria Scott (15). She was part of a 180-strong group from Kilgraston School at Bridge of Earn.
They were inspired to take part by their sports teacher, who retires this year.
On Saturday, Camperdown Park was the venue for the first-ever Dundee Race for Life 10k event.
It drew runners from all over the country and for one the journey was particularly special.
Katie Murphy (41) was diagnosed with ovarian cancer in December and only completed her course of chemotherapy at the end of last month.
But when she heard that 13 of her family and close friends including sister Joanna and mum Teresa planned to travel 75 miles from Shotts to take part, she was determined she wasn't being left behind.
Katie and her group who ran the race complete with pink feather boas were among 800 women taking part in the 10k.
First past the finish line was Carolyn Clarke (35), of Forfar, who has taken part in several Race for Life events over the past few years.
She completed the course in just over 45 minutes.
She said, "I have a genetic fault which means I'm very likely to get cancer, so I'm running for a cure."
You can view a full gallery of photos, and add your own, by clicking here.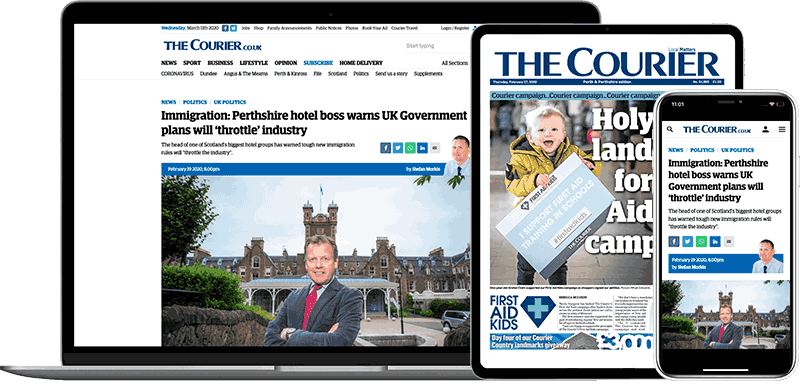 Help support quality local journalism … become a digital subscriber to The Courier
For as little as £5.99 a month you can access all of our content, including Premium articles.
Subscribe