 Scotland's population has reached a record high of nearly 5.25 million because of inward migration with Perth and Kinross recording the biggest population jump over the last 10 years.
Figures released by the General Registrar of Scotland show the country's population grew by 196,600 between 2001 and 2011 and now stands at 5,254,800 people.
The rise is largely attributed to the wave of inward migration that has occurred over the past decade, although the number of deaths in Scotland fell to its lowest level in more than 150 years last year.
Perth and Kinross' population rose by 11% per cent over the decade to 2011 and now stands at 149,520.
Although other areas such as Edinburgh and Glasgow have seen greater rises in population numbers, no area has recorded a greater proportional rise.
Dundee's population rose by 0.1% over the same period and there are now 145,570 people living in the city. The population of Angus rose by 2.1% to 110,630 while the number of people living in Fife has risen by 5% to 154,380.
Overall, the population of Scotland rose by 0.6% between 2010 and 2011. This is partly due to a net gain in the number of people moving to Scotland from the rest of the UK.
In 2011, 43,700 people moved to Scotland from the rest of the UK while 40,800 people left Scotland to live in England, Wales or Northern Ireland.
Registrar General George MacKenzie said yesterday: "Scotland's population has seen a continuous increase in recent years, partly because there have been more births than deaths, but mainly because more people have moved to Scotland than have left.
"This trend continued in 2011, with migration largely responsible for an increase of 0.6% in the population.
"At 5,254,800, the population is now the highest ever recorded, 14,000 higher than the previous high in 1974."
Scotland's population is now expected to reach 5.76 million by 2035. The number of people over the age of 65 at this time is expect to rise from its current level of 880,000 to 1.43 million. Mr MacKenzie said Scotland still lags behind the rest of the continent in terms of life expectancy, despite the lowest number of deaths recorded in Scotland since records began in 1855.
He said: "In 2011, the number of deaths in Scotland dropped to 53,661, the lowest annual total since registration began. But life expectancy is still lower than in many other European countries.
"Despite this, the number of older people has increased and this has contributed to a rise in the number of households.
"This is likely to continue, with an anticipated increase of 63% in the number of people aged 65 or over by 2035."
Scottish Conservative health spokesman and deputy leader Jackson Carlaw MSP said: "The ageing population is a train coming down the tracks the NHS in Scotland is not prepared for.
"Too little attention has been paid to the demographics of Scotland in the future."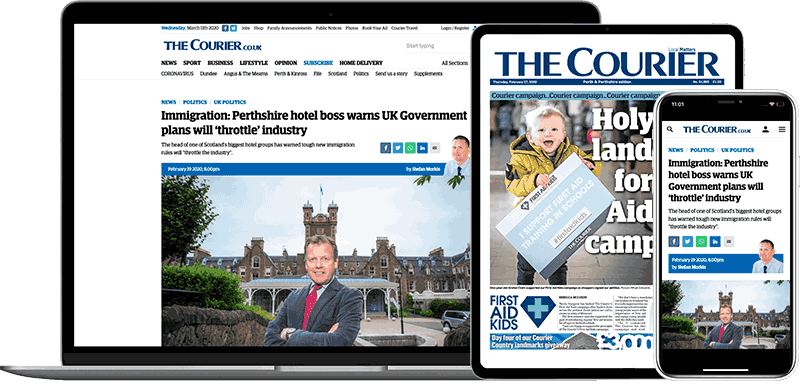 Help support quality local journalism … become a digital subscriber to The Courier
For as little as £5.99 a month you can access all of our content, including Premium articles.
Subscribe