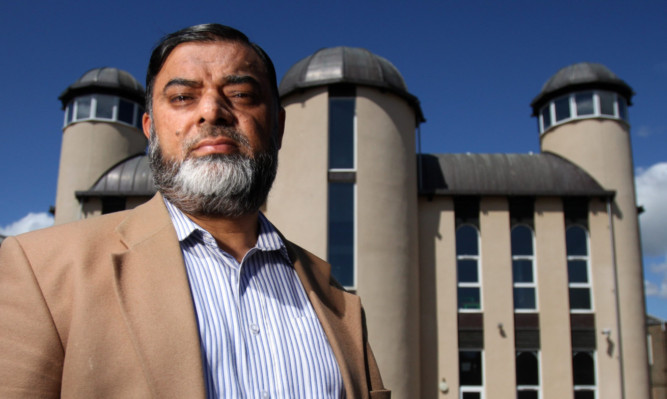 The Scottish Defence League is mobilising "due to high demand" following the murder of a soldier in London.
Police are stepping up patrols at mosques across Tayside and Fife in an effort to see off any backlash against Muslims in the wake of the killing of Drummer Lee Rigby in Woolwich.
Officers have appealed to leaders of organisations that represent ethnic minority communities to report "heightened tensions" and warned of "potential hostilities".
The controversial English Defence League has already clashed with police and attacked mosques south of the border, and its offshoot in Scotland has arranged a demonstration in Edinburgh on Saturday June 1.
The group has not confirmed a date for a Dundee demo but a source said details will soon emerge about all of its planned rallies in Scotland, including activity in Aberdeen next month.
A source at the Scottish Defence League (SDL) told The Courier: "Due to high interest and demand we are looking to organise something in Dundee in the near future."
In a post on its Facebook page the minority group said the rallies would "show support for all British soldiers".
SDL leaders boast of up to 4,000 members but true numbers are thought to be far lower. Its aim is to "stop the Islamisation of the UK".
Tayside's Chief Superintendent Hamish MacPherson said he will take a "firm line" on the SDL and pledged to consider "reassurance patrols" at mosques across the division.
It is understood that some officers are worried that the Woolwich incident will lead to violence against Muslims.
In an email seen by The Courier, Sergeant Davie Hayes of Fife's Equality Unit warned organisations that represent ethnic minorities to be on their guard, writing: "Full details and possible impact is still at an early stage, but there is a concern about potential hostilities towards certain communities.
"Police Scotland Fife Division would like to be made aware of any heightened tensions within any of your communities or any public fear about potential for further attacks."
Officers in Fife already have plans for additional patrols at mosques across the region, according to Mr Hayes.
Chairman of Dundee Islamic Society Bashir Chohan, 55, whose organisation represents 4,000 Muslims in Tayside, said: "We would really appreciate increased patrols. We are also keeping our eyes open and we hope things calm down.
"We have to be really cautious because, unfortunately, people do take the opportunity to fuel the situation and I have spoken with members of mosques in Dundee, Perthshire and Angus about this.
"Everyone is condemning this horrible act of violence. These things don't help the community."
Dundee councillor Mohammed Asif urged the authorities to come down hard on anyone who breaks the law at the planned demo in the city.
He said: "Any kind of hate crime is not acceptable in any community. It's a matter for the police and I would urge them to take action against any racial hatred rallies in Dundee. They should control it and deal with it."
Pat Elsmie, director of charity Migrants' Rights Scotland, based in Auchterader, warned that the rising racial tensions in England could spill over the border unless the police step in.
She said: "If the Muslim community is under threat it's important that the powers that be protect them, so it's a good thing that there are increased patrols at mosques.
"I would hope that the police also work up further plans to improve relations between communities. We have to put the message across that Muslims are not people to be afraid of."
Sarwar Rathor, 68, trustee at Dura Street Mosque in Dundee, urged local people to ignore any demonstration.
"We should not give them special attention," he said. "Let them do it this is a free country. They have a right to express their views, even if I don't like their views."
However, chairman of the Victoria Mosque in Dundee Mohammed Razak, 54, said the Muslim community is "concerned" about a backlash.
"Of course, the SDL has a right to demonstrate if they want to do that and we can't stop them, but I don't know what they're trying to prove. It's like we're being accused.
"We're obviously concerned. We're worried that people are thinking all Muslims are the same (as the men who murdered the soldier in Woolwich). That's not true."
Tayside Division Chief Superintendent Hamish MacPherson warned that he will keep a close watching brief on the SDL.
"We have good relations with our many communities and continue to engage with them," he told The Courier. "The police will take a firm line on any hate crime incidents which emerge from these events.
"In Tayside Division we are speaking to key individual networks and will consider reassurance patrols to ensure that no hate crime emanates from this incident.
"I must reinforce there has been no incident whatsoever in this area and to my knowledge none whatsoever in Scotland."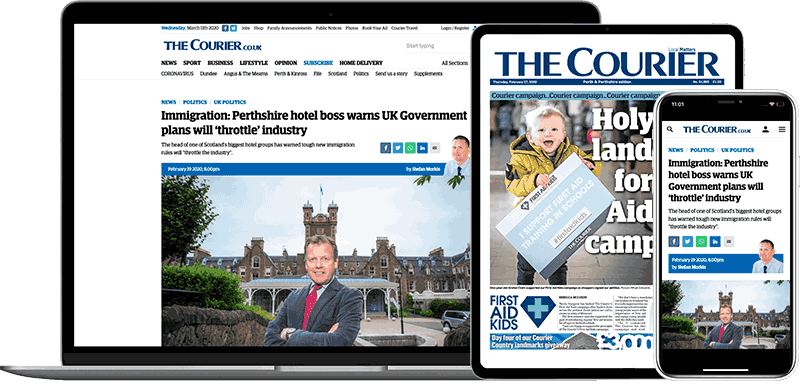 Help support quality local journalism … become a digital subscriber to The Courier
For as little as £5.99 a month you can access all of our content, including Premium articles.
Subscribe