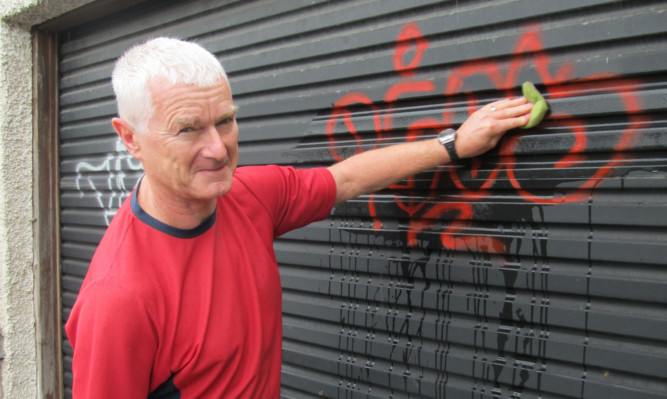 Outraged Blackness Road residents woke up on Monday to the red and blue marks sprayed over their garage doors, masonry and even dog bins.
The damage extended into Norwood Crescent, Dickson Avenue and Glamis Road. One resident discovered his garage door had been daubed when he was up for an early walk at 5am.
"It was all over my door," he said. "I phoned the police and they said there were complaints all over Blackness Road.
"It's on cars, power boxes and bins. I managed to get the red stuff off with white spirits but I've still to try the blue."
He branded the perpetrators "idiots."
"I was a manual worker all my life and I bought this house 33 years ago but people like this just don't care," he said.
"I'm just glad it wasn't on the masonry. It's sickening. They are cowards at heart. It's a very cowardly thing to do, malicious, mindless damage. They must have the mentality of childen."
Another man noticed the damage on his way to work.
"They probably started at the town centre, just past the cameras," he said. "They have got their tag all over it. You've got to see this to believe it."
"They've painted on trailers, postboxes and signs too. In the whole time I've been here, I've never seen anything like it."
One neighbour was slightly more resigned to the wide-scale damage.
"If they want to do it could they please get better art skills," she said.
"If you're going to make your mark, could you make it bonnier?"
Police urged anyone who has yet to report any damage to their property to get in touch.
A spokesman said: "Tayside division received a number of calls this morning after graffiti was spray painted on to private properties in the Blacknesss Road area overnight.
"We would also encourage anyone who was affected, and who has not already called, to contact the police.
"Premises in Norwood Crescent, Dickson Avenue and Glamis Road were also affected.
"Garage doors were predominantly affected, as a result of being sprayed with red and blue paint, but postboxes, shop shutters and walls were also damaged, as was a trailer parked at a roadside.
"Officers are carrying out inquiries and the offending graffiti is being photographed as part of the investigation."
The investigation will also focus on CCTV footage. The police spokesman sent a stern warning to the perpetrator.
"Defacing other people's property in this manner is not art, it is criminal damage and Police Scotland takes this type of crime very seriously," he said.
"There is a database of graffiti images and tags in Dundee and that allows the police to link large numbers of crimes together to try to ensure that individuals are held responsible for all of their actions.
"It is not uncommon for these criminals to post their handiwork on websites or social networks. That is something that officers give attention to as part of the effort to tackle vandalism."
A Dundee City Council spokesman confirmed the rapid response team was yesterday aware of this graffiti and was moving to deal with it. West End councillors also appealed for anyone who saw anything suspicious to report the damage to the police.
Fraser Macpherson said: "I've a great deal of concern about this very significant spate of graffiti.
"I've been in touch with both the police and the rapid response team. They are anxious to see not only the graffiti cleaned up but whoever is responsible apprehended.
"This wasn't five minutes' work, this took a bit of time."
Councillor Richard McCready added: "It's absolutely disgraceful. There's no excuse for it, it's just dreadful.
"I hope whoever the perpetrators are are caught quickly. I'm looking for strong action. I hope someone has seen something and I would urge anyone who has seen anything to contact the police.
"It's so expensive I think we have got to make it easier for residents to get this cleaned up," he said.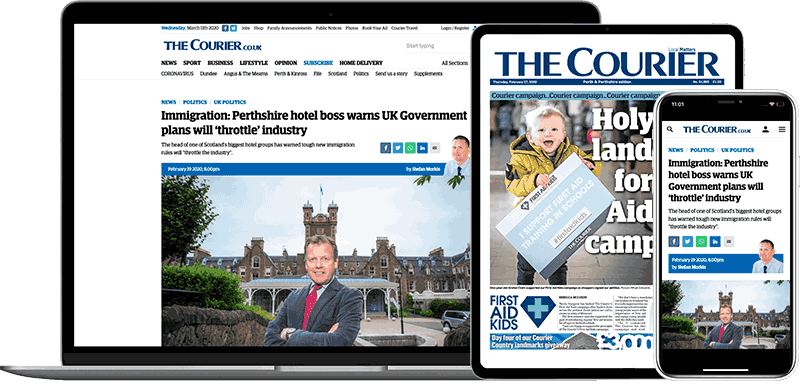 Help support quality local journalism … become a digital subscriber to The Courier
For as little as £5.99 a month you can access all of our content, including Premium articles.
Subscribe