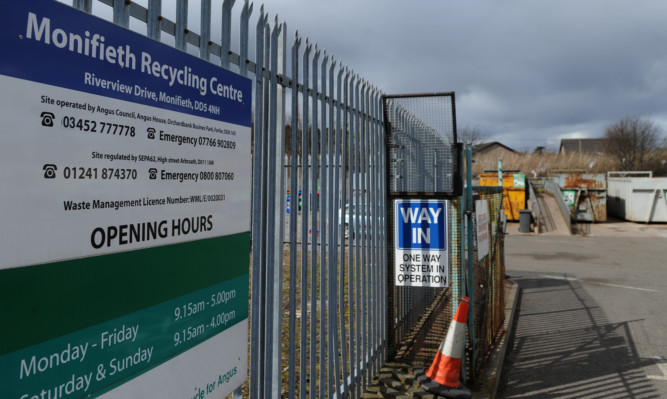 The number of recycling centres across Angus will be slashed in a bid to make budget savings.
The plan will mean the phased closure of the Brechin, Carnoustie, Forfar,Kirriemuir and Monifieth facilities.
Arbroath and Montrose will be retained under the proposals, with a new centre to be developed in the Forfar/Kirriemuir area.
A combined Forfar/Kirrie facility was already in the offing previously thesubject of a controversial application at Padanaram but now three other towns in the county have joined the hit list.
Other measures planned to claw back cash include the introduction of garden waste collection charges; the withdrawal of food waste collection from rural areas; and the closure of five public toilets.
The proposals would lead to a reduction in staff, with cuts to be managed through "natural turnover" and "the ending of temporary contracts".
Vacant posts won't be filled and The Courier can reveal there will be a "selection process" to decide which temporary employees are kept on.
Graeme Dailly, environmental service manager, sent a memo to all staff ahead of the proposals going public.
He said: "I recognise this will be adisconcerting time for those directly affected by these changes and still means a degree of uncertainty for those ontemporary contracts."
The report which will go to Tuesday's communities committee is recommended for approval following thestrategic review of waste management.
Stewart Ball, head of regulatory and protective services, said: "In the current financial climate, Angus Council can no longer afford to provide a recyclingcentre in each burgh town, and accordingly the overall number of facilities has to be significantly reduced.
"Central to the preferred option, is the development of improved facilities at the remaining three centres."
In addition to reducing counciloperated recycling centres from seven to three, the servicing of skips from the facility maintained by Edzell Village Improvement Society (EVIS) will be stopped.
That means the most likely outcome would be that the site in the village would change from a recycling centre to a Neighbourhood Recycling Point.
Elsewhere, a subscription service is proposed for introduction during the summer to 45,500 households currently receiving a garden waste collection.
Households would make an annual £25 payment per bin for the first year which would be reviewed annually.
It is also proposed to stop collections during December and January.
Charging for the collection of garden waste is common practice in England and Wales but there are no councils in Scotland that currently do so.
There are also changes proposed to the kerbside food waste collectionservice which was rolled out to all parts of Angus during 2014.
There are 52,000 households receiving the service but the report says due to the excessive distances travelled on some routes, it has been concluded that "continuing the service in rural areas does not offer value for money and is no longer considered to be either environmentally or economically sustainable".
It is estimated that this will result in the food waste service being withdrawn from approximately 3,500 households a reduction of 7%.
Five unattended public toilets have also been proposed for closure at The Den, Kirriemuir; Dall's Lane, Brechin; Norries Road, Westhaven; Arbroath Road, Forfar; and Tay Street, Monifieth.
Agreement has been reached with Angus Alive, however, that members of the public will be able to use toilets in any of their facilities such as sports centres and libraries.
The recycling centre changes would result in an estimated ongoing saving of £258,000; garden waste changes would result in £393,000 savings; food waste retraction would give savings of £91,000 while the closure of the five unattended toilets and the change of two attended Superloo facilities to unattended would save £74,000.