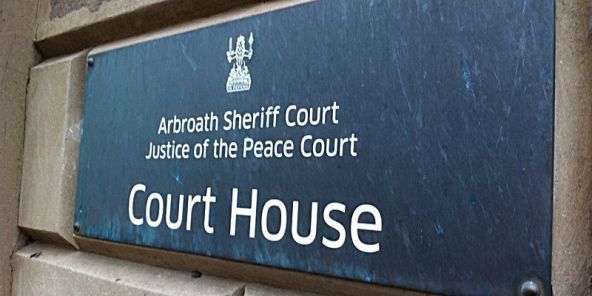 A Dundee man who carried out "frenzied and sustained" attack with a broken glass bottle has been jailed for 16 months at Arbroath Sheriff Court.
Barry James Jordan (26), of Charleston Drive, admitted that on September 16 2011 at an address on Greenlaw Place, Carnoustie, he assaulted John Colquhoun and repeatedly struck him on the head and body with a glass bottle, to his severe injury and permanent disfigurement.
Depute fiscal Jill Drummond said Jordan and brothers John and Paul Colquhoun, along with others, had taken part in a drinking session involving eight crates of beer from 4pm in the afternoon prior to the offence.
She told the court: "At around 12.30am the accused and Paul Colquhoun started to argue and John Colquhoun stepped in between them.
"Jordan struck John with a bottle of lager on his head. Upon being hit the bottle smashed. John raised his hands to try to defend himself but Jordan continued to attack him, striking him on both arms with the broken neck of the bottle."
Ms Drummond said the flat's owner asked everyone to leave the house. Police were called and found Jordan and his victim in the garden.
"Mr Colquhoun sustained several minor cuts to his face and a cut on the top of his skull that required to be glued," she added.
"There was also a deep laceration to his right arm near the elbow which required five stitches and four paper stitches. There was also a deep laceration on the outer aspect of the left arm near the elbow that required four stitches."
She added that Jordan also suffered a small cut to his thumb, which was thought to have been caused by him using the bottle.
Defence agent Ross Donnelly said his client did not have a criminal record for violence and he was seeking help for his alcohol misuse.
He said: "Although this was a frenzied and sustained attack, there was just one bottle used. There's nothing in his previous convictions or report to suggest that he is a violent person.
"This frenzy of violence was the result of a number of circumstances, the main one being the large amount of alcohol he had consumed.
"The report indicated he is a young man who has not had his troubles to seek. He is very frank in admitting there are issues with drink and he has approached his GP for help.
"He is quite frankly petrified at the thought of a custodial sentence and would comply with any order you see fit to impose, knowing it was a direct alternative to custody."
However, Sheriff Kevin Veal said a custodial sentence was "inevitable" and sentenced Jordan to 16 months, reduced from 18 months, due to Jordan admitting his guilt on the morning of the trial.
He said: "I read the report very carefully and the gravity of your offences is clearly articulated by the injuries sustained by the victim and his disfigurements which he will have to live with for the rest of his days. A custodial sentence for this offence is inevitable."