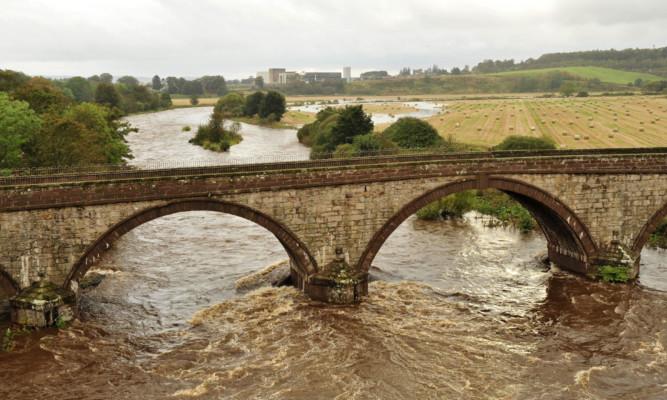 A group of anglers have spoken of their dramatic airlift to safety from a spate-hit Angus salmon river which was the scene of two rescue operations within minutes of each other.
The trio were among a total of four people saved on the River North Esk between Marykirk and its mouth, just north of Montrose.
Rapidly rising floodwater had left the three people stranded "within minutes" on an island in the middle of a raging torrent.
Husband and wife Guy and Sarah Norrie, from Dumfries, and Mr Norrie's older brother, George, were plucked from the island at Lower Northwaterbridge by a rescue helicopter from RAF Boulmer in Northumberland after the alarm was raised by family friend Geoffrey Burnand, from Hampshire.
The Kinnaber rescue mission followed a separate incident shortly before, in which a solo angler was pulled to safety by a Fire and Rescue Service water rescue team after he was caught out by the rising river at Marykirk, a few miles upstream.
The first emergency call-out was received around 3.30pm and was attended by Scottish Fire and Rescue units from Stonehaven and Laurencekirk as well as members of the Montrose Coastguard team.
The angler was pulled to safety on a sled dinghy across the swollen river and suffered no ill effects.
Emergency services had scrambled a rescue helicopter to assist in the Marykirk operation but just as it appeared the Rescue 131 aircraft would not be required, the alarm was raised for the second time.
Mr Burnand had been fishing slightly upstream of his three friends after a successful morning in which he had landed a 13lb fish, just a day into the group's regular visit to Kinnaber.
"I was wading slightly up above them and very quickly the river was getting very iffy and very dirty and I decided that enough was enough," said 72-year-old Mr Burnand.
He walked down the bank to alert the other group to the increasing risk but said within minutes the rising river stranded them on the island.
"I could see that they were going to be in trouble, it was rising so rapidly," he said.
Sarah Norrie, 67, said: "Where we had walked across a dry stony bank shortly before there was now water pouring down. The force of the water was so strong and we realised we could not try to get back across."
The group's ghillie, Peter Winder, sparked the Coastguard-led rescue mission and was told a rescue helicopter was already on its way north.
Guy Norrie, 74, who owns a small share in the Angus beat, said: "We knew that we were OK on the island. We were told that the helicopter would take around half an hour to get to us and we just remained there until we were taken off."
Safely back at their riverbank fishing lodge last night, the group said they had been astonished by the speed with which the river rose, as they watched debris including straw bales continue to race down the Esk.
"We arrived for a week's fishing last night (Sunday) and Geoffrey had gone out in the morning and landed his salmon," said Guy.
"At lunchtime the rain had stopped, the sun had come out and we thought we were going to have an excellent afternoon's fishing."
Grateful to the emergency services for their swift rescue operation, the group were keeping a close eye on the river.
"We had to leave our rods and wading stick on the island and hope that they may still be there," said Guy.
A Coastguard spokesman said the dramatic events were an illustration of how quickly conditions could become life-threatening.
"A river can rise very quickly, and be affected by the tide. If you are in any doubt about conditions, just don't go," said the spokesman.