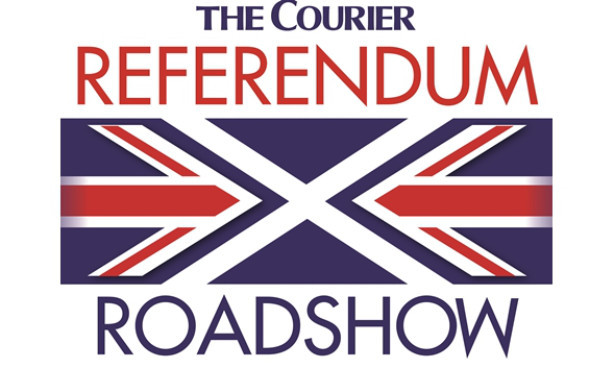 The Courier's Scottish independence referendum roadshow came to a close on Friday after surveying the opinions of thousands of people.
Taking in dozens of locations around Courier Country, a team of pollsters have spoken to people on the street about how they intend to vote come September 18.
They made their last two stops in Angus, at Arbroath harbour and on Carnoustie High Street and the Golf Links.
The ping pong ball system employed by Courier pollsters, in which people indicated their voting intentions by placing a yellow or white ball in a "Yes" or "No" tube, saw the result firmly in favour of independence in Arbroath, with 63% for and 37% against.
Carnoustie voters were of a similar mind, with 64% indicating they would vote Yes and 36% No.
Sandy Jackson, 67, said he would be voting in favour of independence but acknowledged there would be "some risk" if the country were to go it alone.
"I think things are heading in one direction at the moment, down, and for the sake of my grandchildren I would like to help them make their own future."
Maggie Nicoll, 56, indicated she will vote for Britain to stay together in September.
"I think the SNP have done a reasonably good job from Holyrood but I think there are too many issues they are hoping for the best on like pensions and industry and the armed forces."
Yes voter Mark Burnett claimed he would rather "vote for al Qaida than David Cameron".
The ping pong approach has encountered voters in a quandary.
In Stonehaven, lifelong SNP voter Robert Chasser , 63, said he would not vote for independence because he did not "think there's anything wrong with the way things are at the moment, especially in this area".
Ex-Perth Conservative councillor Paul Leslie said he has come to the conclusion he will vote Yes as the "present political system in the UK is broken".
In Fife, Waid Academy pupil Rachel McCusker, 17, said there has "not been enough information for younger people to make an informed decision".
In the Stobswell area of Dundee, Yes voter Robert Milne, 70, said he had been a No voter when the campaign began but changed his mind due to "tripe" in the Better Together campaign's message.