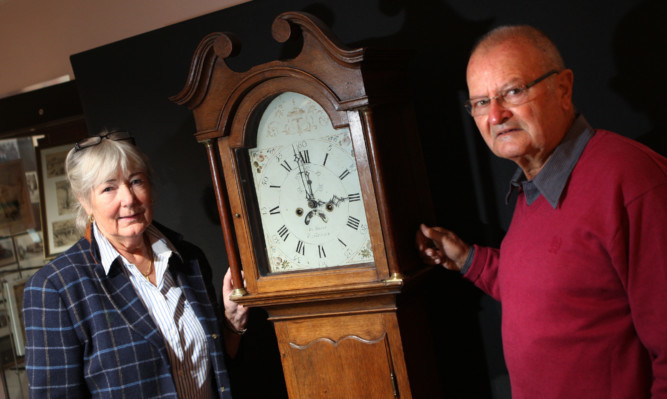 Surprise international visitors chose the perfect time to drop in at an award- winning Angus tourist attraction.
Kirriemuir's Gateway to the Glens museum welcomed Dr Fritz Rheinheimer and his wife, Rita, who made the trip from Germany to return home to Angus a fine example of the clock-making talent for which the wee red town was once famed.
The gift completed a remarkable journey from Scotland to Europe and back for the John Bower long case clock with the final leg being made in the passenger seat of the couple's car.
In 2003 Dr and Mrs Rheinheimer visited the home town of Peter Pan creator Sir J M Barrie, and on a tour of the town centre museum saw another example of a clock they had at home.
John Bower was one of the craftsmen in Kirrie's once-thriving clockmaking trade, with as many as a dozen operating locally between 1795 and 1877.
Iron parts for the clocks are thought to have also been crafted locally, at Kinnordy Smiddy north of the town, before the high quality items found their way to homes in Scotland and abroad.
Bower set himself apart from many of his contemporaries by making the entire clock, rather than ordering the case from a local cabinetmaker. Born in the village of Lintrathen, his clocks often bore the name Kirrymuir, and it is thought he operated in the town from the turn of the 19th Century, with a shop in High Street in 1825.
The German pair, of Friedrichshafen, near the Swiss border, had owned the clock since the 1970s, when Dr Rheinheimer's parents bought it in Dusseldorf.
Museum curator Colin Easton and his staff welcomed the couple to Kirrie. "It is wonderful to receive donations to the museum's collections and even more so if they have been transported half-way across Europe to arrive here," Mr Easton said.
"Dr Rheinheimer can't say how the clock found its way to Germany in the first place but he was determined to return it to Angus."
Beside displays dedicated to famous town sons like author and playwright Barrie and AC/DC frontman Bon Scott the museum has another John Bower clock, donated by John Drummond after generations in the local family.