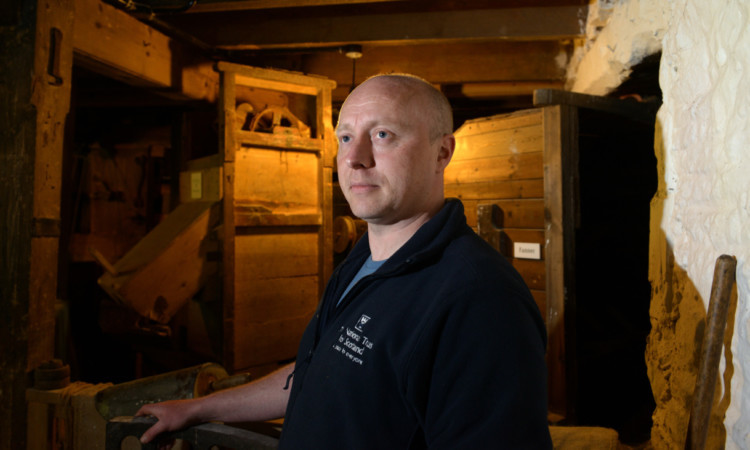 An Angus mill has appealed for the community's help in finding out more about one of its millers who served in the First World War.
A note scrawled in pencil at the top of a wooden beam at Barry Mill says: "Stewart Kidd left August 1914, returned March 1918."
However, relatively little is known about Mr Kidd, despite the best efforts of master miller Peter Ellis, who has traced the history of many of the oatmeal mill's previous employees.
Now as the mill prepares to celebrate its 200th anniversary, Peter is hoping a Courier reader might know more.
He said: "It would be great to know more about Mr Kidd's life and war service however, it has been difficult to research his past on genealogy websites because we don't have a place of birth or death for him.
"I am hoping that someone locally might have traced their own history tree and come across Mr Kidd.
"We are particularly intrigued by the note on the wooden beam, which suggests he served in the First World War.
"He must have been so relieved to return to Angus safely.
"It would be great if someone came forward with information this year, which is the centenary of the Great War and the 200th anniversary of the mill as it stands now."
He believes Mr Kidd's brother, Edward, also worked there as there is another pencil note on a wall that Edward Kidd was an apprentice in 1910.
John Gunn Sr took over the business in 1926, followed by his children Donald, Catherine and John, who ran the mill in the 1940s.
Catherine eventually sold Barry Mill to the National Trust in 1988, which has maintained it as one of the few remaining traditional mills driven by a waterwheel in Scotland.
The mill will hold an open day with free entry on May 11 from noon-5pm to coincide with National Mills Weekend.
It will be the first chance for members of the public to see a new permanent exhibition telling the story of the fire of 1814, which it is believed was caused by an open flame from an oil cruise lamp.
The fire caused the majority of the mill, which dates back to 1539 to be destroyed, with only the original kiln surviving.
"Barry Mill is a fascinating wee place that has played a vital role in this community for centuries," said apprentice miller Ciaran Quigley, who is preparing to take over from Mr Ellis when he retires next year.
"There are very few operating water mills in Scotland now and hardly any where the public can come in and see it all in full working glory.
"The open day will also include music, storytelling, face painting, a treasure hunt and food stalls. We will also be carrying out a milling demonstration."
The exhibition will be formally opened by Enid Gauldie, author of the Scottish Country Miller, to invited guests the previous day.
Anyone with information about Mr Kidd is asked to comment below, call The Courier on 01382 575896 or email angus@thecourier.co.uk.