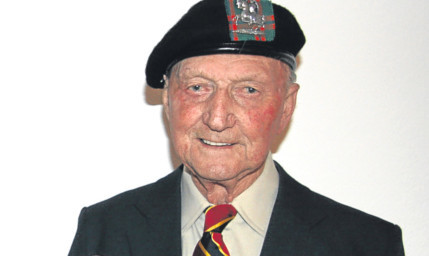 A Second World War veteran who took part in the British Army's biggest tank battle has received France's highest honour, 71 years after the D-Day landings.
Les Skelton from Brechin drove M4 Shermans as part of the 2nd Fife and Forfar Yeomanry advance across the Continent in July 1944, and was "blown up" twice.
Mr Skelton is now a Chevalier of the French Legion of Honour and was sent a clasp by the French ambassador in London, Sylvie Bermann.
The 92-year-old opted against an official ceremony but has been "greatly honoured" by the commendation.
He said: "I was in the 2nd Fife and Forfar Yeomanry, driving tanks in the second landings at Normandy.
"We were the breakout troops after the bridgehead had been established.
"As for France, I didn't see very much of it, as I was looking out of a periscope for a lot of it," he joked.
One of the engagements Mr Skelton took part in was Operation Goodwood, a two-day battle that General Montgomery envisioned as securing Caen and the Bourgubus Ridge beyond.
Three Allied tank divisions including the yeomanry in the vanguard as part of the 11th Armoured Division lost more than 300 tanks and sustained 3,400 casualties, against a German figure of 100 tanks and an unknown number of casualties alongside 2,000 prisoners.
Mr Skelton added: "I got blown up at that time but wasn't hurt.
"The tank was completely out of action but I just got another one there were tanks lined up waiting for you."
Although the offensive was contained at Bourgubus, the Allies managed to push the German lines seven miles east from Caen and reduced the number of defenders for the subsequent Operation Cobra, which broke through decisively.
"We ended up getting through France, Belgium and into Holland," Mr Skelton said.
"I was blown up again in Holland, was badly wounded and after five months in hospital I was invalided out the army."
In civilian life, Mr Skelton became an auctioneer and became an accountant at a local garage.
Although Mr Skelton maintains he is "no hero by any measure", he feels honoured by the French people, who welcomed the yeomanry "any time we did happen to stop".