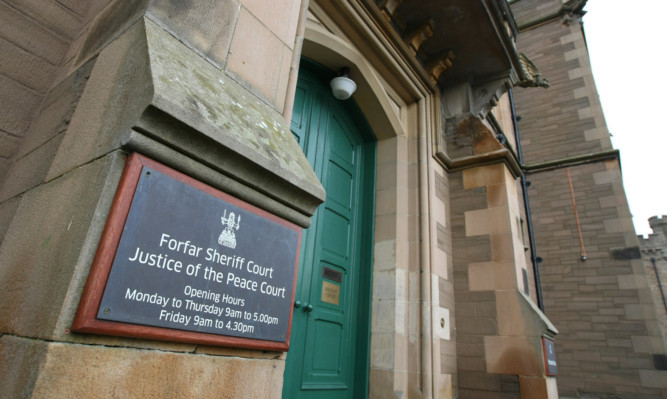 A teenager who picked up a knife during a row with his stepdad has been told he can expect no sympathy.
Rytchy Scott had been pinned to a bedroom wall by his mum's partner during the bust-up at a house in Montrose, but Sheriff Gregor Murray told the 19-year-old that any sympathy he had for him "evaporated" after a blade became part of the scenario.
Scott, of Dalhousie Terrace in Montrose, appeared at Forfar and admitted behaving in a threatening manner towards Martin Lees at a house on Glenisla Road, Montrose, on July 2, punching him in the face, and uttering threats while in possession of a knife.
Depute fiscal Hannah Kennedy said Scott had been living there at the time with his mum and stepfather, but around 4.30pm on the day of the offence a verbal row between the accused and Mr Lees had broken out.
"The accused was upstairs but at one point the verbal argument appears to have escalated whereby the stepfather ran into the accused's bedroom, grabbed him by the clothing, pinned him against a wall and then started to strike the accused," the fiscal said.
Scott punched him back before Mr Lees then went back downstairs.
The fiscal added: "The accused is then very angry and at this stage goes into the kitchen, seizes a knife and is verbally abusive to Mr Lees. He is threatening him harm, that he was going to kill him, that he was going to knife him and when he is making these threats he is in possession of the knife."
Sheriff Murray told Scott: "Up until the point you grabbed the knife I have every sympathy with you, but when you grab the knife my sympathy evaporates."
Sentence was deferred until November 12 for reports.