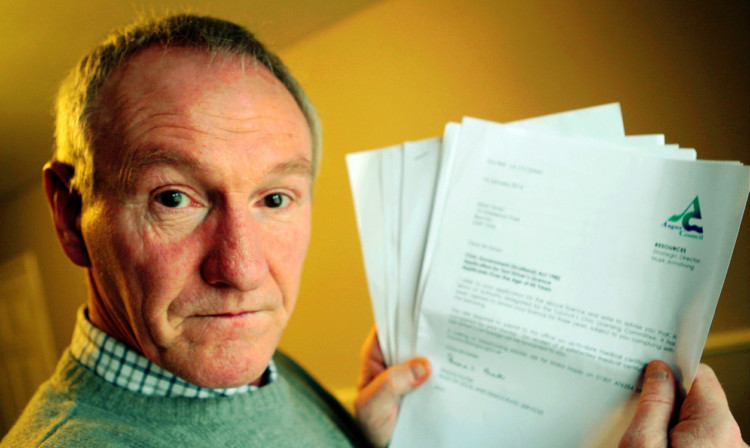 Making Angus taxi drivers undergo a medical when they reach 45 has been blasted as "age discrimination."
However, Angus Council said the policy, which has been in place since 2005, is under review in light of legislative changes.
Brechin taxi driver Allan Swan hit out after receiving a letter from Angus Council, which approved his taxi licence renewal subject to submission of an up-to-date medical certificate as he is over 45.
He said: "I have no option but to get the medical or I'll lose my livelihood. I'm effectively being bullied by the council.
"If I decided to take it to court, I would face another dilemma because the Angus taxpayers would eventually foot the bill if I did win.
"The people responsible wouldn't be affected and it would be the people of Angus who would pay any fine imposed. I am quite happy to get a medical, not however, because I'm over 45.
"I would not get away with this kind of discrimination so why should they?"
Mr Swan has claimed Angus Council is breaching the 2010 Equality Act which states you can only discriminate because of age if it can be considered "justifiable."
He said: "The equality act is in effect now and Angus Council is breaking the law however they look at it."
The Equality Act came into force in October 2010 and replaces all previous equality legislation in England, Scotland and Wales. The Act protects people of all ages.
However, different treatment because of age is not necessarily unlawful (direct or indirect) discrimination if employers can justify it.
That would mean they would have to demonstrate that it is a proportionate means of meeting a legitimate aim. This recognises some age-differentiated treatment is socially acceptable.
However, it is unclear how this legal test will be applied by the courts.
A spokeswoman for Angus Council said: "The council requires all new applicants for a taxi driver or private hire driver licences to submit and pass a medical to Group 2 DVLA standards.
"Since 2005 the council has required applicants to submit and pass a Group 2 medical at the first licence renewal after the driver is 45 and this is repeated at six yearly intervals until applicants reach 65, after which yearly medicals are required.
"This practice is in line with DVLA requirements for bus and lorry drivers.
"We are reviewing a number of our policies in light of legislative changes and this review will include medicals for taxi and private hire car drivers."