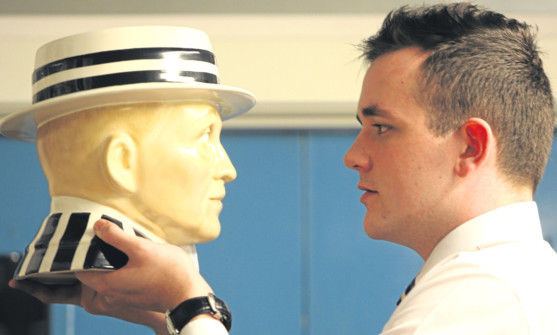 A treasure trove of music, instruments and memorabilia will go under the hammer this weekend.
Taylor's Auction Rooms in Montrose are putting jukeboxes, slot machines and a vast private collection of 50,000 vinyl records up for sale.
The sale is expected to attract cross-country bidding on lots including a Yanagisawa saxophone, grand pianos, guitars, and violins.
LPs, 45s and 78s will go under the hammer in bundles of between 100 and 600 records, ranging from the 1920s to the 1990s.
Auctioneer Robert Guthrie said: "The sale has attracted lots of interest so far as it features something for everyone, and lots without estimates."
One of the gems is Europe's largest collection of Bing Crosby records and memorabilia.
The late Frank Grant began collecting all things Bing as a 16-year-old in 1936 and met him a number of times during golf trips.
He went on to amass thousands of items of memorabilia, which Crosby would sign as the pair often met before play on the Old Course in St Andrews.
Crosby played in the British Amateur Golf Tournament in May 1950 under his real name, Harry.
Thousands lined the Old Course to watch local builder Jim Wilson beat Bing in the first round in heavy rain.
Mr Grant's collection includes vinyl, reel to reel tapes, sheet music, photo albums and posters.
One Crosby lot is a photograph showing the crooner signing the confirmation sheet for a grand celebrity charity golf match at Gleneagles in 1976.