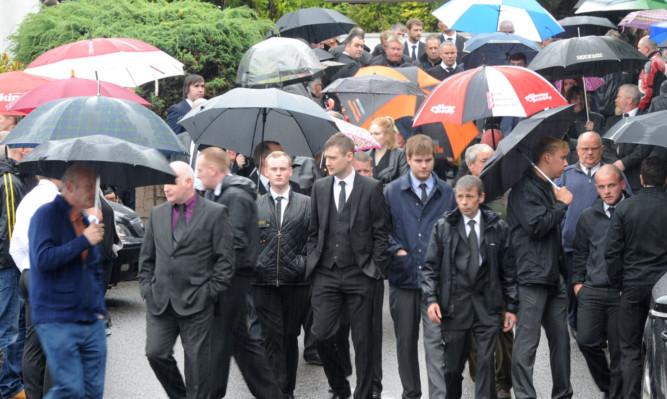 To the sound of the race commentary from his greatest victory, Andy Lawson was carried by motorcycle hearse to his final resting place.
Ten days after the crash that claimed the 25-year-old father-of-two's life in the Ulster Grand Prix, hundreds ofmourners packed George Stewart's Chapel of Rest in the young engineer's home town of Arbroath on Tuesday to hear a eulogy devoted to the "braw lad's" passions of family, racing and friends.
Racing rivals from Scotland, south of the border, Ireland and the Isle of Man were among those who joined his family and friends to pay their respects,including many who stood outside the packed funeral home to hear the service on loudspeaker.
The solemn silence inside and out was broken by laughter throughout as mourners heard his partner Billie Mae Malley's memories of her "soulmate" and the stories of Andy's closest friends who contributed their favouriterecollections to the celebration of the young star's life.
His achievements on two-wheels were also remembered from starting out as a teenager to winning the prestigious Junior Manx Grand Prix last year, before his life and racing career were cut tragically short on the high-speedDundrod circuit a week past Saturday.
Andy amassed a string of Scottish titles in various categories and was widely tipped as one of road racing'srising stars, cementing that reputation with the 2014 Junior Manx win over the famous Isle of Man course.
The commentary to that race over the island's legendary Mountain circuit was played as his Saltire-draped coffin was carried to the motorcycle hearse.
The cortege that then made its way to Arbroath's Eastern Cemetery included a number of motorcyclists, but nothing to match the sheer scale of a show of remembrance that accompanied the return of his body to Angus last week.
An estimated 400 bikers mounted a rolling tribute to the racer, following his coffin in the family's race van, driven by his father, Mike, from Dundee to Arbroath in a poignant homecoming.
In Arbroath the cavalcade of motorbikes and dozens of cars was met byhundreds of people at the gateway to the Angus town, with spontaneous applause breaking out as the procession passed.
A collection taken at theservice will benefit road racing air ambulance charities.