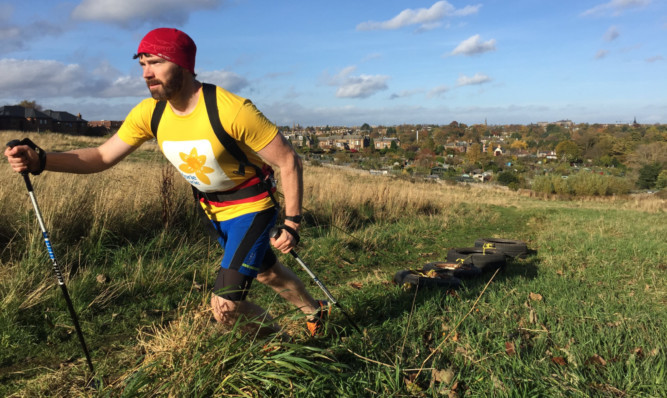 A heroic Mearns adventurer is aiming to make South Pole history just one year after undergoing major brain surgery.
Luke Robertson, who grew up on a farm near Stonehaven, will set off on the 730-mile Antarctic trip later this month.
The former Mackie Academy pupil is bidding to become the first Scot and the youngest Brit to undertake a solo, unassisted and unsupported expedition to the South Pole.
The 30-year-old, who now lives in Edinburgh, has the backing of world-famous explorer Sir Ranulph Fiennes and record-breaking long-distance British cyclist Mark Beaumont.
However, life could have been very different for Luke, who feared he had a brain tumour early last year.
However, the major operation revealed the lump had been a large cyst.
It was his time spent in the neurology ward at Edinburgh's Western General Hospital that inspired him to take on the challenge.
Luke has already raised more than £23,000 for Marie Curie and his record-breaking 'Due South 2015' expedition will start from Hercules Inlet at the very edge of Antarctica on November 21.
He will be dragging 100kg of equipment across 730 miles of ice, over 35 days, braving temperatures of -50 degrees Celsius and 100mph winds.
By completing this trip, Luke is hoping to inspire others to overcome mental and physical challenges.
Luke, recently engaged to Hazel, said: "After all the training and preparation I am now eager to start the expedition and face the huge mental and physical demands the challenge will present.
"I have been overwhelmed by the support and generosities I have received so far in my fundraising efforts and know the infinite encouragement will enable me to push myself further and keep me smiling when I spend Christmas Day alone.
"I've seen first-hand the strength of the human character and hope that through undertaking this extreme endurance expedition I can inspire others and demonstrate the ability to overcome even the most testing situations."
During his trip Luke will be providing progress updates through Facebook and Twitter.
Luke has also received support from the Saltire Foundation, the Mountaineering Council for Scotland and the Royal Scottish Geographical Society.
While Luke has a number of private donors and his employer, Franklin Templeton Investments, is also supporting his efforts, he is still looking for corporate sponsors to cover costs.
Those interested in sponsoring Luke can do so at www.duesouth2015.com.