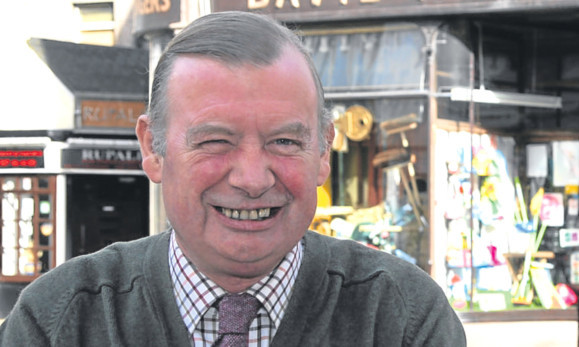 The 18th Earl of Strathmore and Kinghorne, Michael Fergus Bowes-Lyon, has died after a long illness. He was 58.
The former Scots Guards captain was born on June 7 1957, the Queen's first cousin once removed and great-nephew to the late Queen Elizabeth, the Queen Mother.
He was educated at Sunningdale School of Eton College, Aberdeen University, and the Royal Military Academy Sandhurst.
The Earl of Strathmore succeeded his father the 17th earl, Fergus, in 1987 and was a Conservative whip in the House of Lords from 1989 to 1994.
A qualified City of London stockbroker, the earl was a director on the board of various companies and past president of the Boys' Brigade, before retiring to Glamis Castle with his family to take an active role in the management of the castle, its 17,000-acre estate and farming enterprises.
The 14th-Century family seat, once valued at £12 million, was the late Queen Mother's childhood home.
The earl was married three times, to Isobel Charlotte Weatherall in 1984, to Dr Damaris Stuart-William in 2005 and to Karen Baxter in 2012.
Lord Strathmore met Mrs Baxter while she was manager of the former Irons store in Forfar.
Lord Strathmore who walked behind Prince Charles and Prince William at the Queen Mother's funeral and was considered the head of the Queen's Scottish family said he had found "complete contentment" following his third marriage.
In the same year, the earl later bought David Irons, an old-fashioned furnishing ironmongers that was virtually untouched from its original 19th-century format.
Its retiring owners were delighted their shop was to be saved from being turned into a pub and the acquisition fulfilled one of Lord Strathmore's boyhood dreams.
However, it was sold two years later, bowing to negative economic pressures in the town centre.
Lord Strathmore died on Saturday morning.
He is survived by four sons, the eldest of whom, Simon Patrick Bowes-Lyon, will succeed him as the 19th earl, his sisters Lady Elizabeth Leeming and Lady Diana Godfrey-Faussett and his mother Mary Pamela, Dowager Countess of Strathmore.