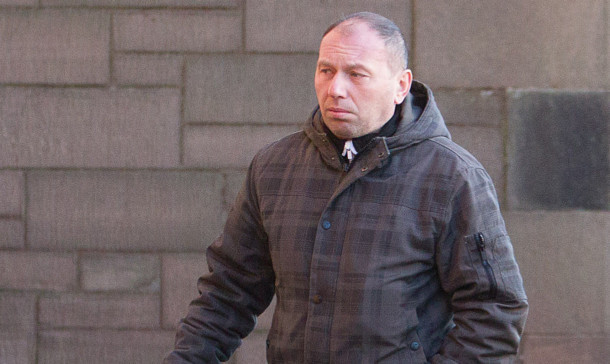 A Polish man has been convicted by a jury of dangerous driving in an Angus gorge crash case which left his friend paralysed.
Digger driver Robert Buzalski, 36, wept in the dock at Forfar Sheriff Court after being convicted of seriously injuring his work colleague Krysztof Birula in the August 2013 smash which saw their hire car plough off a glens farm road and into a river below.
Buzalski was one-and-a-half times the drink-drive limit after he and two pals had downed liqueur vodka before driving to nearby Edzell, leading to the fateful journey in terrible weather conditions and now leaves him facing a jail sentence.
He has been granted bail to return to Poland to be with his wife and young child while reports are prepared ahead of sentencing in April, but a sheriff has warned Buzalski that all options will be considered by the court in the wake of the "anxious and tragic case".
The accused had denied a charge of causing serious injury to Mr Birula August 24 2013 by driving dangerously and at excessive speed on an unclassified road leading to Dalbog Farm, near Edzell, with an alcohol reading of 124 mgs, the legal limit was 80, and losing control of the vehicle whereby it struck a banking and fell into the river bed.
In delivering a majority guilty verdict, the jury removed an allegation within the indictment that Buzalski had braked sharply in the moments before the crash, but rejected a defence submission to find the accused guilty of careless rather than dangerous driving.
The trial heard the Hyundai hire car had gone off the road on a left hand bend approaching a bridge on the poor condition farm road.
Police accident investigators estimated the car was travelling at 29mph at the point it became airborne and dropped into the ravine, saying that the maximum speed a driver could have safely taken the bend would have been just under 35mph.
Buzalski and friend Marcin Kopij escaped relatively unscathed from the crash, but Mr Birula had to be cut free by firefighters after breaking his back.
He has since returned to his homeland and will be confined to a wheelchair for the rest of his life. In an unusual step, a legally sanctioned statement taken at his Polish bedside was read to the court in the early stages of the trial.
During evidence the accused broke down as he told the jury he thought "every day" about the tragic outcome for his close friend, who he continues to visit as often as possible.
Sheriff Pino Di Emidio deferred sentence on Buzalski until April 20.