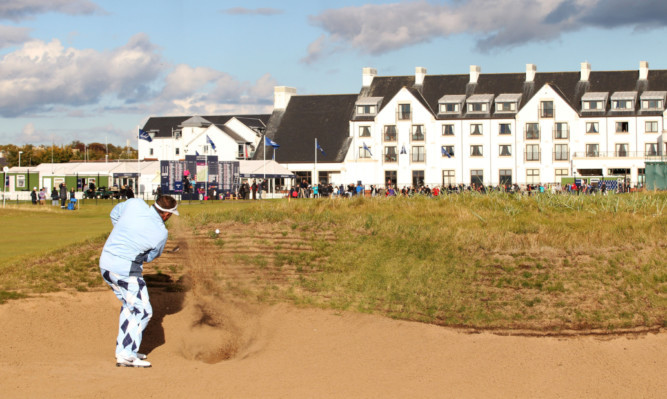 Vital work is under way in Carnoustie to maximise the spin-off from the world's greatest golf tournament, according to the links town's MSP.
Scotland's economy was boosted to the tune of £140 million by the Open being held in St Andrews last year, with Fife's coffers bolstered by £52m.
Angus South MSP Graeme Dey said there is no reason the region cannot expect to generate a similar slice of economic benefit in 2018.
He said the links town once again playing host to golf's oldest major presents a "tremendous opportunity" to showcase what a great area Carnoustie and Angus is.
Mr Dey said: "I think the figures illustrate the opportunity that staging an Open Championship can create if we showcase the area efficiently.
"Carnoustie will be holding the seniors open this year and has a proven track record at hosting these kind of events.
"The economic benefits can be huge, and although 2018 seems a long way off, the preparation work involving Angus Council and the Links Management working in conjunction with Visit Scotland and the R&A is already under way to maximise the opportunity that 2018 presents."
He continued: "It is about giving visitors the best experience possible so that they return to the town in future and that repeat business helps our shops, pubs and hotels.
"Alison Smith and her economic development team at Angus Council will be looking to maximise this and it's really about pushing all the good things that we have to offer."
The study, commissioned by the R&A, showed that spending by visitors to Scotland for the tournament last year generated £88m nearly double the £47.5m in visitor impact achieved in 2010, when the event was last held at the Old Course.
A further £52m in marketing benefit was realised thanks to the exposure gained by St Andrews and Scotland being broadcast to more than 500 million households worldwide, according to separate research carried out by Kantar Media Sport Intelligence.
The economic impact assessment, carried out by Sheffield Hallam University's Sport Industry Research Centre, estimated that Fife alone benefitted to the tune of around £52m.
Mr Dey said golf tourism is big business and there are a number of other courses within a short distance of the town to entice tourists back.
He said "top notch" courses such as Monifieth, Panmure and Montrose, which have all hosted Open qualifying events, can also be sold to golf tourists as a package opening up other parts of the county to explore and spend money in.