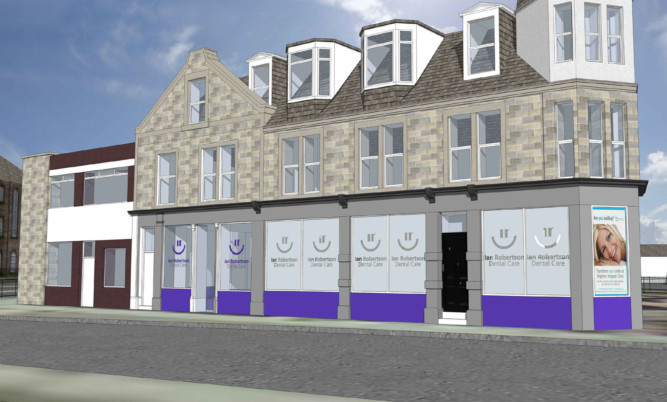 A former legal highs shop in Angus is to be transformed as part of a dental practice expansion.
Declaration on Brothock Bridge, Arbroath closed its doors last year after a community campaign led its owner to decide running it was "too much hassle".
The premises and the adjacent shop unit were recently purchased by Ian Robertson and plans were lodged by architects the Voigt Partnership to extend the existing practice.
Architect Jonathan Reeve of Voigt said it was delighted that planning permission has now been granted by Angus Council for the expansion from two to four surgeries.
The proposal is to create a unified working surgery with main reception/waiting area, staff areas, four surgery rooms and ancillary toilet/storage facilities.
The communal external space at the rear of the building is very poor condition and the proposal is to tidy this up and extend into this communal access via a small extension for the staff room, whose roof would also extend to the existing building to provide a cover to the access/fire escape for one of the flats at number 12.
One further small extension will create a more useable child smile area and ties into the roof over the staff room.
The proposal will make this area secure with new gates on the east and fencing to the north, and will create improved bin access for both the dental surgery and the flats.
New surgery branding will be applied onto the back of all of the full height glass windows while the former doorway will be blocked up to become an information wall.
The Voigt Partnership said: "We have also discussed our proposals with some of the local residents and owners of the adjacent flats, who appeared very supportive of the proposals.
"One of the biggest issues they mentioned was site security and this was implemented in the current design and will become a key consideration in the design development.
"In summary it is considered that the proposal will be an improvement to the existing building.
"The proposal is for modern alterations to an expanding local business that is welcomed by both immediate neighbours and the local community, especially given the uses and nature of some of the previous shop units."