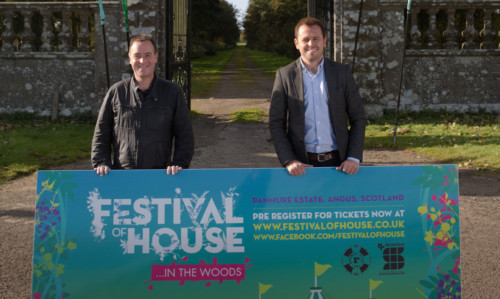 A Tayside estate with its roots stretching back to the 12th Century has agreed to host an electronic dance music festival.
Panmure Estate, near Carnoustie, was chosen as the site for next year's two-day event which is planned to take place on June 10 and 11.
Festival of House, which is being supported by the renowned Rhumba Club, hopes to attract 15,000 dance fans to the region.
"We are delighted to announce that Festival of House has found its site within Panmure Estate," said festival director Craig Blyth.
"From day one, Panmure Estate aligned perfectly with our vision for Festival of House.
"We recently carried out a thorough assessment of this site and submitted it to Angus Council, who have confirmed that no further environmental impact assessment is required.
"This is now with the Scottish Government for final review."
Mr Blyth added: "We can only thank everyone who has helped get the plans for this exciting new event to this stage.
"House music fans can look forward to a festival experience like no other in Scotland and this will start with Panmure Estate's stunning surroundings."
The lands at Panmure were granted to the Norman family of De Valoniis in the 12th Century. The De Valoniis and Maules, another Norman family, were united by marriage early the following century.
Panmure remained in the ownership of 20 generations of Maules until late in the 18th Century.
Panmure Estate was put on the market for the fourth time in its 800-year history in 2001 and was sold to Angus Estates for around £21 million.
Wayne Dunbar of the Rhumba Club said: "It is very fitting that we'll be celebrating the Rhumba Club's 25th birthday in 2016 with such an impressive dance music festival in the heart of the beautiful Angus countryside.
"We are excited, motivated and committed to bringing an electronic music event of this stature to the east of Scotland."
Organisers of the event have now embarked upon the full consultation and planning process with key agencies and local residents.
The early stages of the process have involved consultation with bodies including Scottish Natural Heritage, the Scottish Environment Protection Agency and the Health and Safety Executive.
Permission for the weekend festival includes a request for two temporary stages, a big tent, car parking and a camping area able to accommodate 5,000 campers overnight.