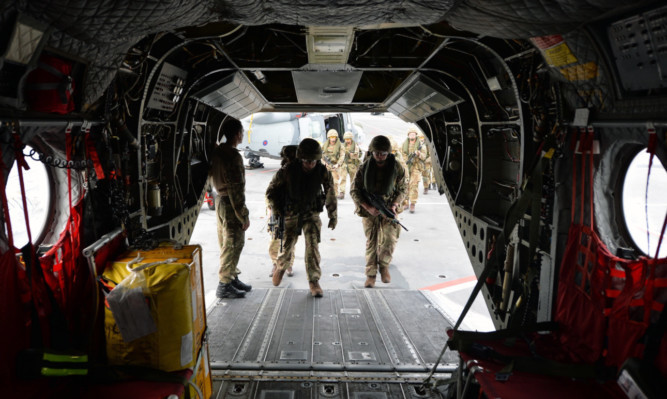 Arbroath-based Royal Marines have formed part of Nato's most ambitious exercise for more than a decade.
Men from 45 Commando are among 3,000 marines from 70 ships and submarines involved in the maritime portion of Trident Juncture 2015 off the coast of Portugal, Spain and Italy and at Nato's Maritime Command in Northwood, Middlesex.
HMS Ocean and Bulwark have embarked personnel from the Condor base along with members of the US Marine Corps. Also onboard are Wildcat helicopters from 847 Naval Air Squadron, Merlin Mk2 from 814 Naval Air Squadron and Chinooks from 27 Squadron RAF.
https://youtube.com/watch?v=9f_w3MWbm-U%3Frel%3D0
Well-rehearsed drills to deliver 45 Cdo Royal Marines and their US counterparts into the heart of the action are being put to the test with the exercise now fully under way.
Vice-Admiral Ian Corder, the UK's military representative to Nato and the EU, said: "Trident Juncture is the biggest and most ambitious Nato exercise in more than a decade, focused on exercising crisis response, collective defence, and helping to shape the future adaptation and posture of the alliance."
The maritime element tests multiple warfare disciplines at sea including amphibious landings in four locations, special operations forces activities, maritime patrol aircraft sorties, submarine warfare and coastal training events.
The exercise clears the Royal Navy's maritime battle staff to command the naval element on the Nato Response Force in 2016.