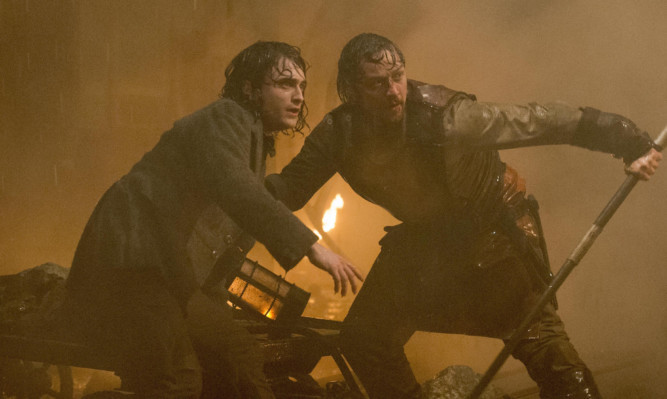 A Mearns castle which starred in the hit animated film Brave has failed to bring similar success to another Hollywood blockbuster which bombed on its opening weekend in the US.
The use of the stunning backdrop of Dunnottar Castle near Stonehaven could not prevent Victor Frankenstein flopping at the box office.
The big budget re-imagining of the Frankenstein tale, which opens in cinemas in Britain this week, features Harry Potter star Daniel Radcliffe and Scottish actor James McAvoy.
The actors took part in two days of filming in Aberdeenshire last March under the direction of Sherlock director Paul McGuigan.
At the time, McGuigan posted a picture online of cameras over the castle cliffs and said: "It was beautiful to be shooting back in the homeland".
Its weekend haul of $2,469,341 is the worst ever for a movie opening in more than 2,500 theatres in America.
The film, which cost around $40 million before advertising costs, performed slightly better in overseas markets, taking $10m from 24 countries, including $2m in Russia.
The movie has also received poor reviews. The San Francisco Chronicle described it as "bleak and tedious" and the New York Daily News said it "horrifically fails".
However, in one of the few positive reviews, Empire film magazine gave the film four out of five stars and said it is "crackling with energy and fizzing with ideas".
At the time of the filming, castle custodian Wendy Sylvester said: "The cast and crew have been so good to work with and very respectful of the site.
"They have been filming constantly but I said they could come back in the future and I would let them in the castle."
The update on Mary Shelley's horror classic is told from the perspective of Igor, Victor Frankenstein's young assistant, who is played by Radcliffe.
The film was initially meant to be released by 20th Century Fox in October 2014, but this was moved to January, then October, then again to last weekend.
Radcliffe described the film's script as "far and away the best (I've) read coming out of a big studio in the time that (I've) been off Harry Potter".