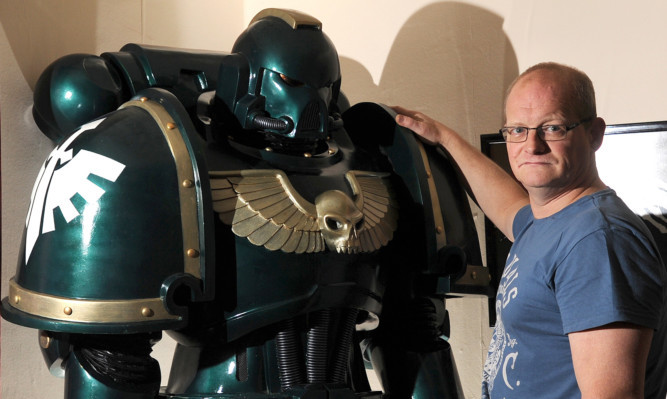 An Angus man is helping children build their own larger-than-life models from simple beginnings.
Steve Wild from Arbroath has spent five months building a 7ft suit of science fiction armour and finished the project just in time to scare his neighbours.
The space marine armour, which has articulated limbs but "weighs a ton", took neighbours by storm over the Halloween weekend when worn by local man Brodie Johnston.
Mr Wild built the 200lb suit to test the limits of pepakura, or papercraft, used as a skeleton for fibreglass or resin.
The father of two said the previous limits of fibreglass modelling made it very hard and time consuming to build models but there have been recent breakthroughs in the use of composite materials which are more child-friendly.
Now he is helping local children build their own designs for fibreglass and foam kits, influenced by films like Iron Man and the game Minecraft.
"I've been building things since when I was a kid," he said. "When I had my own kids I made things for them like a Ghostbusters proton pack for their backpack.
"Pepakura lets you make a 3D image into a flat form like a jigsaw. You print it out and fibreglass that to make a strong shape, then use paper clay, which adds things like joint filler to papier mache.
"It's cheaper and much safer to use around kids so they can get involved with it."
For the millennium, Mr Wild built a 2,000-piece cross made up of 1,500 hand-built figures of Christ and 500 human skulls in the base.
It took two years to build to a church commission and later had to be demolished because of its size.
Since then, his home workshop has had a production line of spaceships, robots, cartoon and video game characters.
His recent creations include the spaceship Sulaco from the film Alien, helmets from comics heroes Batman and Ironman, a stormtrooper helmet from Star Wars and armour influenced by the video game Skyrim,
He has been helping local children make some of their favourite characters and lets them take part and build some pieces.
"If you can cut out a shape and glue it with PVA, you can start," he says.
Mr Wild thinks his next project will be an 8ft reproduction of the iron throne from TV smash hit Game of Thrones.
It will involve 530 sheets of A4 paper and substantially more work than his armour.