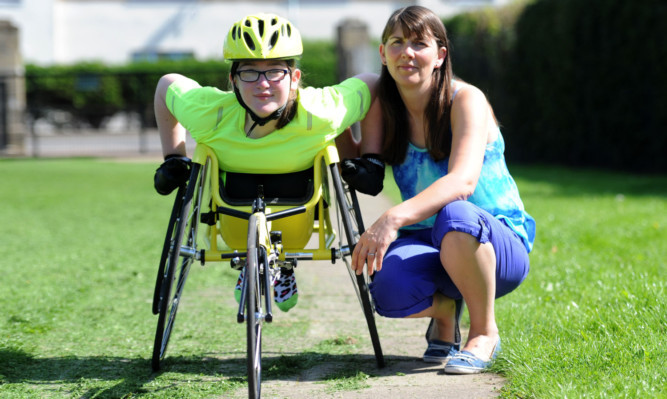 A young girl's dreams of racing at the 2020 Paralympics, a statue to celebrated rock star Bon Scott, and gardening against dementia are among the good causes vying for public cash in Angus.
Angus Council launches its collaboration with the Crowdfunder website next week, and The Courier can today reveal the first four causes to look for community cash under its wing.
T54-classified wheelchair racer Murran Mackay, from Kirriemuir, was born with spina bifida and is paralysed from the waist down.
The 13-year-old is the only competitor in her field on the east coast and she dreams of participating in next year's London mini-marathon on her way to Tokyo 2020.
Murran needs money for race wear, travel, and spare parts for her new competition chair, which is expected to improve her times at forthcoming events in Perth and Glasgow, at which she is already competing at a high level.
She said: "I saw the wheelchair racing at the last Paralympics and adverts about the Commonwealth Games, and have wanted to do it since then.
"I'm hoping to do the London Mini-Marathon and that's what my training's going to be towards."
Mum Loraine said: "Her racing so far has been in what's called a borrow chair, which goes off to one side, and she's still managed to do pretty well.
"Education Scotland paid for the new chair but we've been told it will cost a lot more to buy carbon fibre wheels and replacement parts."
The Fireworks for Arbroath group have come a long way since they began fundraising in February.
Karen Cuthill took it upon herself to get a fireworks display back in Arbroath.
A quickly-assembled group of volunteers then developed a constitution, set up a bank account, and have been drumming up support for their event ever since.
An entirely new project, the Memory Box Network, will allow gardening graduates to teach volunteers how to help families of people with dementia, in their own gardens.
Organiser Scott Downie said: "Our main aim is to help people who are affected by dementia spend more time together sharing stories, laughing and smiling."
DD8 Music in Kirriemuir has been campaigning and raising money for a statue to former AC/DC singer Bon Scott since 2012.
Organisers hope to add another £12,000 to the £33,000 they have already raised.
Speaking ahead of Tuesday's launch, the council's economic development spokeswoman Sheila Hands said: "We're really excited to support crowdfunding as it has the potential to benefit people, businesses and communities across the county."