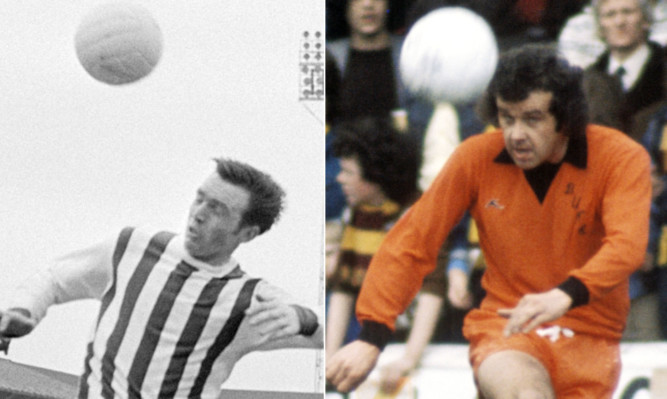 The widow of Dundee United legend Frank Kopel has backed Jeff Astle's family's fight for justice believing her husband's dementia was similarly caused by years of heading a leather ball.
Amanda Kopel, who lives in Kirriemuir, is also supporting the Jeff Astle Foundation, which has been launched by his family to help ex-footballers suffering from brain disease.
Dr Willie Stewart, a world-leading neuropathologist, reported that Astle's death in 2002 at 59 was caused by chronic traumatic encephalopathy (CTE) not Alzheimer's, as previously believed.
Astle, a prolific header of the ball who won five England caps and was a member of the 1970 World Cup squad, was the first confirmed case of CTE in English football.
Mrs Kopel said Frank was initally diagnosed with a mixture of Alzheimer's disease and vascular dementia but she believes that his dementia was caused by years spent heading a hard leather ball just like Astle.
She said: "Here was a very fit ex-professional footballer who had never even taken a painkiller for a headache, no major health problems, no heart disease, strokes, never smoked, exercised every day … vascular dementia?
"He did not fit the criteria of anyone being diagnosed with that. He began to forget little things, which we put down to 'senior moments'. But as the disease progressed rapidly, my beautiful soulmate was being robbed of his mind and body. He started to forget his life.
"And for six years I knew that Frankie did not have 'vascular' dementia, that he had been misdiagnosed and that his dementia was caused by heading of the hard leather footballs but no-one would listen, until last year.
"In 2009 a neurologist friend of ours in the USA first suggested to me that the medical profession had been too quick to label Frankie as having 'vascular' dementia when, in fact, he said it was dementia caused by CTE.
"I tried so many times to suggest this to the professionals who were dealing with Frankie but, as I said, no one would listen until last year.
"To watch what this dreadful disease did to Frankie was heartbreaking and humiliating for us as a family. To watch him being robbed of his life in such a cruel way was soul destroying.
"Being a footballer was the only thing that Frankie ever wanted to do, since he was a young boy, and that same dream of being a footballer ended his life."
Mr Kopel was medically diagnosed with a mixture of Alzheimer's disease and vascular dementia in 2009 when he was aged 59.
Amanda was forced to give up her job to look after him but the couple were forced to survive on a pittance, as they had to pay around £400 a month for council care services that are given free to people over 65 with debilitating illnesses.
Mr Kopel lost his five-year battle with the disease in April last year, aged 65, just weeks after qualifying for free personal care.
Amanda added: "I want to thank the Astle family and Dr Stewart for the wonderful support they have given me and my family this last year."