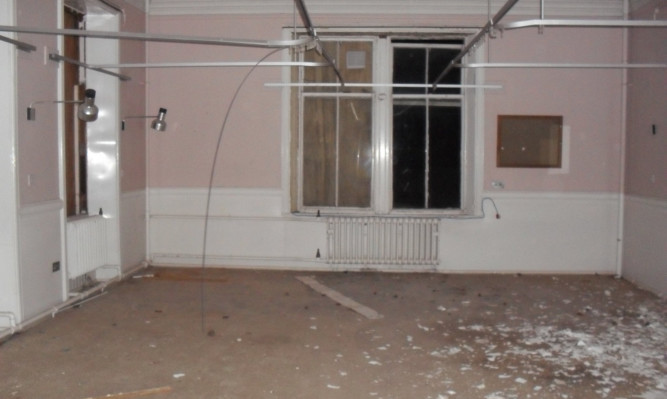 Ghosthunters have been criticised for an illegal foray into a dilapidated former Angus psychiatric hospital.
They trawled the corridors and former wards of Sunnyside Hospital, near Montrose on a quest for paranormal activity, but after posting almost 100 photographs of the inside of the disused building they have been condemned for their "stupidity" in going inside.
The Abandoned Places and Ruins in Scotland group's visit to the 19th Century hospital complex closed by NHS Tayside in late 2011 was revealed on Facebook this week when the range of internal photos were posted.
However, the ghosthunters were defiant in the face of online criticism that they had entered the building and defended their visit as not being in breach of the law.
NHS Tayside has turned down previous bids by paranormal groups to go into the old hospital because of the state of the building and the presence of material including asbestos, and a spokeswoman condemned the latest intrusion.
She said: "Due to health and safety reasons, NHS Tayside will never give permission for members of the public to enter any building on the Sunnyside site.
"We take any breach of security very seriously.
"The buildings are NHS property and it is illegal to enter them without our permission.
"There are alarms in place and security services continue to patrol the site."
Montrose councillor David May, who regularly walks around the area, urged locals to immediately report any unauthorised activity around the buildings.
Mr May said: "It is quite clear on the signage at the hospital that no unauthorised person should be in any of the buildings and that is why they are padlocked.
"I totally back the comments by NHS Tayside that not only is it clearly illegal to enter the buildings without having had permission it is obviously a safety issue and I also condemn the stupidity of those who do enter the buildings.
"I have not heard locally about this happening and, as a regular dog walker round Sunnyside, I have never seen anyone entering the building. People locally know to contact the authority if they do see any evidence of this," he said.
Abandoned Places and Ruins in Scotland had not responded to The Courier's request for comment on the Sunnyside visit.
In 2014 it emerged that Angus-based paranormal investigation group Afterdark had approached the health authority after putting the 150-year-old asylum at the top of their ghosthunt wishlist. But the group admitted they would be unable to take ghosthunt customers into
Sunnyside unless repairs were made because of the condition of the buildings.
Sunnyside was Scotland's oldest psychiatric hospital and its patients included the father of Arthur Conan Doyle as well as Adam Christie, the 'outsider artist' from Shetland who spent his adult life there before being laid to rest in a pauper's grave in Montrose.