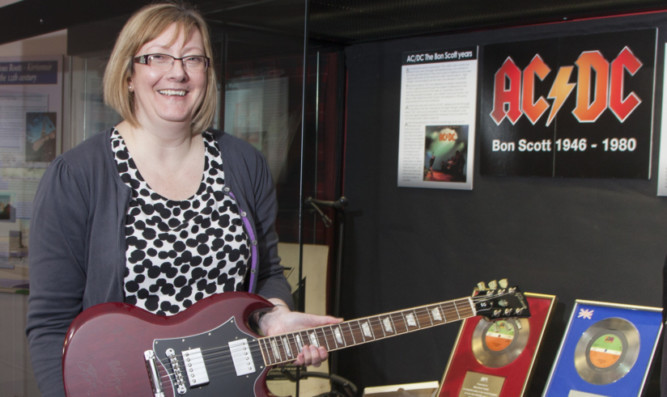 Hell's Bells are chiming after the launch of a new exhibition marked the start of the countdown to a milestone event honouring Kirriemuir's heavy rock son Bon Scott.
This year marks the 10th anniversary Bon Fest, a celebration of the baker's son who emigrated with his Angus family to Australia before becoming the lead singer of rock giants AC/DC, and the Angus town will witness the unveiling of a sculpture commemorating the frontman following a £50,000 campaign which enjoyed global support.
Fans from across the world have also contributed to an extended exhibition at Kirriemuir's Gateway to the Glens Museum in the town square, which at the end of the month is hoping to repeat its record-breaking success of 2015 when more than 400 visitors flocked through the doors on Bon Fest Saturday.
The award-winning museum features a permanent Bon Scott display, much of it loaned by Scots AC/DC super fan Neil McDonald. Among the items added to the case for the 10th anniversary celebration is his prized Gibson SG electric guitar, once owned by the band's Angus Young and signed by all of the group.
In the upstairs gallery of the museum visitors will be greeted by a gold bust of Bon Scott, created by Ayrshire sculptor and AC/DC fan John McKenna, who has crafted the bronze statue which will be unveiled at nearby Bellies Brae on the afternoon of Saturday April 30.
Rachel Jackson of the Gateway to the Glens museum said the fans who make a pilgrimage to Bon's home town were always generous.
"Every year we get an increasing amount of things donated and one of the T-shirts on display came from a chap called Miguel Angel Suarez who came from Coruna in Spain and actually gave us the shirt off his back," she said.
Fan club material from Australia, Germany and Austria has also been gifted to Kirrie, and the number of streets across the world named in Bon's honour are featured in the exhibition.
Kirriemuir has its own Bon Scott Place, there is an AC/DC Lane in Melbourne and another T-shirt in the new exhibition commemorated the unveiling of Calle de AC/DC in Barcelona.