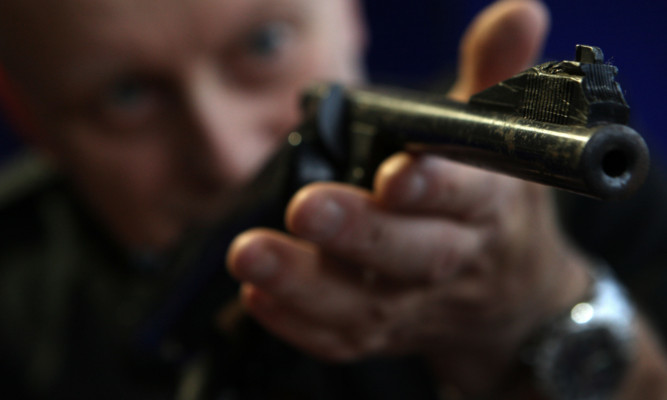 An airgun club chief has hit back in the row over proposed new licensing.
Kathleen Male, chairwoman of Tayside Airgun Club, said they don't have any problem with a fair licensing system but they do object to the Government's proposals.
She said: "We still do not agree there should be greater restrictions where airweapon owners can shoot as there are adequate laws, at present, in place, restricting where they may be used, and, on the street of a town or city is not one of them."
The Government aims to introduce a system of licensing and regulation to "ensure that only those people with a legitimate reason for owning and using an airgun should have access to them".
It does not think that it is appropriate that there can be up to half a million "unregistered, uncontrolled and often forgotten firearms in circulation".
Mrs Male also took issue with comments made by Forfar Small Bore Rifle Club member Errol Lawrie and SSPCA Chief Superintendent Mike Flynn during the consultation process.
Mr Lawrie argued airguns were too easy to purchase and owners will not receive or go through safety for shooting, handling and storage of weapons.
Mrs Male said: "I would like to point out that at Tayside Airgun Club it is mandatory that all new and potential new members are told about the safety, handling and storage of air-rifles, pistols and pellets.
"I would also like to point out that there is no legislation mentioned in the consultation paper for the sale of second-hand airguns through the internet or by private sale.
"Therefore the law-abiding airgun user will apply for a licence, but the irresponsible owner will not.
"With regard to the comments made by Chief Superintendent Mike Flynn of SSPCA, he obviously has not read the consultative paper as it quite plainly states 'prior to purchasing an air weapon, the onus should be on the buyer to ensure that they are in possession of a valid certificate which they could present at the point of purchase.'
"So who is going to check if there is a licence? Again the law-abiding airgun user will purchase a licence and again the irresponsible person will not."
Mrs Male said there is no proposal for BB guns, paintball or airsoft guns to have any legislation "but these guns can cause just as much damage in the wrong hands as airguns".
She said there remains many unanswered questions such as how much an airgun licence will cost and how long it will last for.
Mrs Male added that it would cost the Government in the region of £10 million to implement this licence against a backdrop of only five major incidents involving airguns last year.