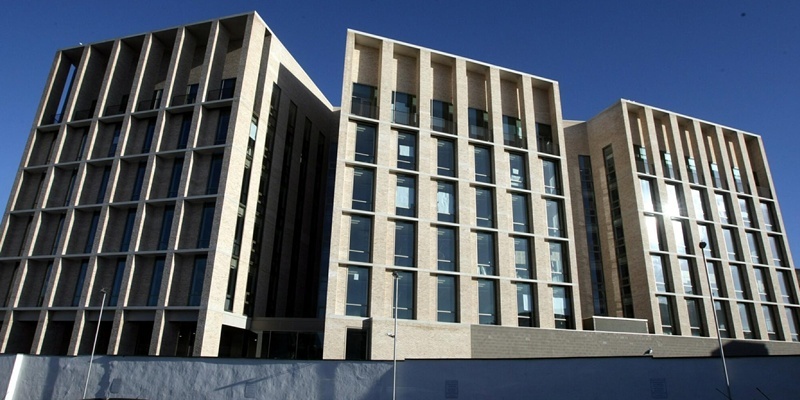 Dundee City Council has been forced to relay all the floors in corridors at its new city centre headquarters after a catalogue of slips and falls on the slippery surface.
It is understood a "significant" number of staff have been involved in incidents, with at least one employee having to be taken to hospital with a serious leg injury.
The council has confirmed work is under way to relay the floors, citing "minor snagging issues". Half of the building's corridors are under repair at the moment.
A council source said: "They're doing every alternate floor so they can keep the building open but a lot of corridors and emergency exits are closed off to the workforce just now.
"Everybody's been slipping on that surface and I would guess dozens of people have reported it as a safety hazard."
Another source said the problems being experienced have been caused by contractors using the wrong materials.
"From what I can gather the wrong screeding was used after the floor was laid out of line. It was meant to be non-slip material but they used the wrong stuff it was meant to be slip resistant.
"There was an error in the floor levels and the screeding wasn't done according to the proper standards, I believe."
The source said staff had also alerted management about leaks coming from the rear balcony and staff having to use towels to plug the gaps when it rains.
Just last week the council confirmed it was having to install blinds throughout the building after workers complained of incessant glare affecting their work.
The source added: "I've been at meetings where people sat with their hands over their eyes the whole time because of the glare. It was obviously a big problem.
"People have been getting huge sheets of paper from the architects department to cover the windows."
Workers also cobbled together other makeshift window coverings from coatstands, open umbrellas and even newspapers stuck to window panes in order to see their computer screens and get on with their work without straining their eyes.
The council confirmed last week that "appropriate" blinds are on order at the the £34 million civic headquarters in North Lindsay Street which opened in August last year.
A Dundee City Council spokesman said: "In Dundee House, as with all major construction projects, minor snagging issues can emerge once staff move into a building and it is used on a day-to-day basis.
"Any such works would be subject to health and safety assessment including safe access and egress."