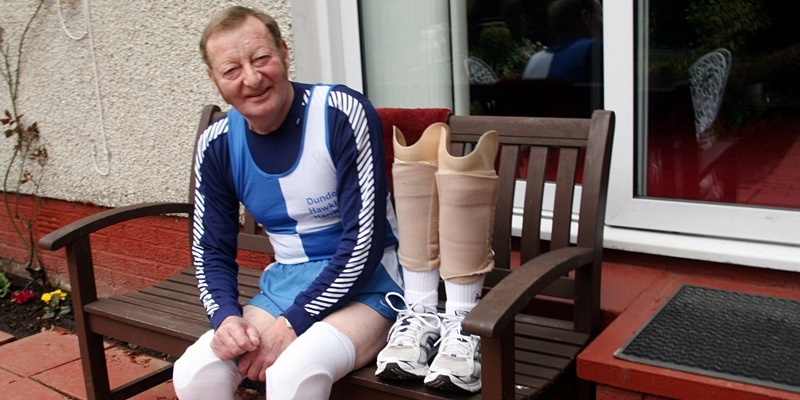 Dundee double amputee Ronnie McIntosh is in reach of his goal of running round his home city carrying the Olympic torch.
The 62-year-old had returned from a trip to Bradford where he underwent the final fitting of his £10,000 short blade artificial limbs, which are set to carry him on his epic effort on June 12.
Ronnie had hoped to be fitted with the same running blades that are used by South African Paralympian Oscar Pistorius, but these were rejected for technical reasons.
His new running limbs will have conventional-looking shins, but in place of ankles and feet there will be short blades over which he will don running shoes.
Different to and lighter than his existing artificial legs, he found them strange to use while at Ability Technology's Bradford clinic, but he is excited at the prospect of receiving them.
"The specialist wanted to see me with them to check if they needed adjusted in any way. They do, and this is happening now, and they will be sent on to me in the near future.
"They are very advanced and it will take me some time to get used to them but I can't wait to get them here.
"The specialist told me to wear them around the house at first and not strap them on and try to go out running straight away. I'll do that. It will take time for my body to become familiar with them, so he told me to swap them every so often with my everyday NHS legs and vice versa."Surplus cash donatedRonnie raised more than the £10,000 he needed for the sports legs and will donate the surplus to the Tayside Kidney Patients Association and Revival.
He is grateful to all who contributed to his cause, with two of the most recent contributions coming from a sportsman's dinner at the Landmark Hotel and a race night at Ballumbie Castle Golf Club.
Ronnie was devastated to undergo a double amputation below the knee because of kidney failure, while he also underwent a kidney transplant because dialysis stopped working after six years.
A new organ was his only hope to survive, and six months after the transplant and fitted with NHS-provided artificial limbs, he summoned the strength and will to complete a "racewalk."
He was delighted at his achievement in covering a mile in 20 minutes, and the performance raised his expectations of what he might accomplish.
To progress from racewalking to light running he needed more specialised limbs that he couldn't get through the NHS.
He was put in touch with the Ability Technology clinic and spent a week undergoing tests at its Wimbledon practice before travelling to Bradford this week for the final assessment.